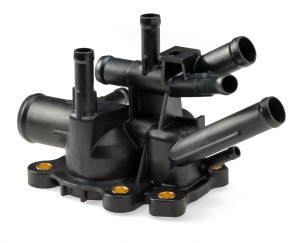 Solvay Specialty Polymers will deliver a technical paper on the use of its high performance polyamides for automotive fuel systems at the upcoming SPE ANTEC 2012 conference. The new technical conference, to be held from December 6-7 in Mumbai, India, is the first ANTEC to be held outside of North America. Sponsored by the Society of Plastics Engineers (SPE), the two-day program consists of six sessions per day in six major topic areas, replicating the format of US' annual ANTEC conference.
More than 100 technical and technical/commercial papers will be presented. Ahir Mathkar, Technical Marketing Engineer, and Georgie Mathew, Sales Development Manager, both with Solvay Specialty Polymers India, will discuss "Polyphthalamide (PPA) to Meet India's Emission Control Requirements for Auto Fuel Systems". The presentation will discuss the automotive market in India which is moving toward stricter vehicle emissions requirements.
This is a trend that affects the fuel system and consequently its material specifications and construction, according to Solvay. The new materials that are required to meet the performance challenge for fuel emissions must provide higher temperature during usage along with chemical resistance to different types of fuels encountered in the Indian market, ranging from gasoline CE5 (5wt% ethanol content), diesel, and its blends with biodiesel. In India, the Bharat Stage-IV (BS-IV) is predominant, with reasonable similarity to the Euro IV norm.
Solvay has developed a semi-aromatic polyamide, Amodel PPA, for use in contact with biodiesel B30 and ethanol 100%, providing extrapolation over biodiesel content in diesel and ethanol content in gasoline fuel currently used in the Indian marketplace.
Amodel PPA has demonstrated superior performance in these bio-fuel applications, retaining their properties over the long term, says the material supplier. The paper will present property comparisons and design recommendations. It will also include detailed analysis showing why PPA is an ideal material choice for fuels currently used in the Indian market.