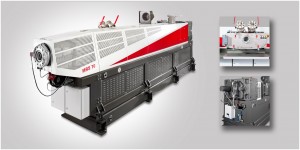 The British specialist for recycling of engineering plastics, K2 Polymers Ltd. (Loughborough) selected an MRS Extrusion System from Gneuss Kunststofftechnik GmbH, Bad Oeynhausen (Germany) for reprocessing heavily contaminated Nylon 11 regrind. Extensive preliminary tests convinced the customer of the advantages of this unique concept. That this equipment has now been successfully operated for over a year confirms that the right decision was taken.
Reground Nylon 11 is available in some quantities when deep sea oil pipes are scrapped after having been recovered from the sea floor from depleted oilfield. This valuable material is contaminated with oil, as a result of years of use. Some of this oil is on the surface of the material, some oil has diffused into the polymer itself, which is particularly problematic when processing this material.
With the MRS (Multi Rotation System) extruder, the processing and decontamination of this Nylon 11 material can be carried out in one step. No complicated and environmentally problematic (and therefore expensive) washing of the material prior to extrusion is necessary. The extraction of the oil is possible thanks to the patented processing technology of the MRS extruder, with its extremely high devolatilising capacity (approximately 25 times greater surface area exchange rate under vacuum than an equivalent twin screw extruder). The vacuum system is so efficient that a vacuum of only 25 to 40 mbar is necessary in order to reliably remove the volatiles from the melt, including the necessary quantity of oil.
K2 polymers selected the MRS 70 with a throughput rate of up to 150 kg/h. The system includes an RSFgenius Rotary Melt Filtration System for efficient, process and pressure constant of solid and semi-solid contamination.The MRS – RSFgenius combination represents an extremely cost efficient solution for K2 polymers. The quality of the Nylon 11 reprocessed on this extrusion line is sufficiently high that it can be used for the manufacture of high quality vacuum and compressed air hoses for the automotive industry.