According to the import statistics revealed by Chinese Customs, overall October polymer imports into China slumped by 8.3% month over month while cumulative imports for the first 10 months lagged slightly behind the same period of 2013, indicating a yearly decrease of 3.3% as per ChemOrbis.
When looking at the January-October period, China's list of top 3 suppliers did not show any change from last year with South Korea, Saudi Arabia and Taiwan maintaining their respective positions. Overall imports from South Korea displayed a 6% yearly drop in the first 10 months and Taiwan posted a larger market loss of 12% in the same timeframe while Saudi Arabia's overall exports to China were up by 5.2% when compared to the same period of last year.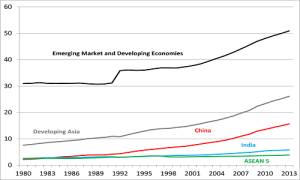 Singapore, meanwhile, raised its share in China's imports by 37% in the first 10 months, moving up to be China's fourth largest supplier from last year's fifth. Overall imports from Iran were also up by 15% in January-October but Iran became the fifth largest supplier this year, losing its position to Singapore.
On a product basis, LLDPE recorded the largest decrease in October as imports slumped by 34% month over month. Singapore maintained its position as the top LLDPE exporter to China, almost doubling its share in imports in the January-October period when compared to the same period of last year. PVC followed LLDPE with imports declining 9% month over month while the overall yearly decrease was much sharper at 27%. China's top PVC supplier continued to be the US although imports from this country were also down by 7% in the first 10 months.
Imports for homo-PP also retreated by 8.8% on a monthly basis and by around 7.8% on a yearly basis in October. The top exporter to China was South Korea, followed by Saudi Arabia and Singapore. Homo PP imports from South Korea did not show a major change in the first 10 months when compared to the same period of 2013 while Saudi Arabia and Singapore raised their market share respectively by 5.4% and 39%.
China's LDPE imports posted a monthly decrease of 7% in October whereas they were up around 38% on the year. The top LDPE supplier was Iran, followed by South Korea. HDPE was the single product where an increase was seen on a monthly basis at 4.5%. Iran's HDPE imports to China indicated an approximate increase of 6% in the first 10 months with the country continuing to be ranked as the top HDPE supplier.
According to ChemOrbis, as for PS, October imports were slightly down by 0.4% month over month while the yearly decline was more significant at 35%. Although Taiwan retained its position to be the largest supplier, it lost market share of around 33% in the first 10 months.