Weight reduction is the buzzword in automotive industry. As a growth driver of the industry, the fast growing Chinese automotive industry needs to adopt the lightweight revolution well. As such, what are the latest lightweighting trends in Chinese market? How do plastics and composites applied by the elite Chinese manufacturers and suppliers? What are the developments of material processing technologies? The two-day 4th CPRJ Automotive Plastics Conference organized in Guangzhou, China, shed lights on the outlook on the Chinese automotive industry.
Prior to the opening of the Conference, China had announced its new fuel consumption standard for passenger vehicles. Compared with the existing standard of 8L/100km, in 2015, all passenger vehicles in China have to meet the new requirement which is 6.9L/100km. It means a further reduction in weight for vehicles is needed.
Focuses on the megatrend of weight reduction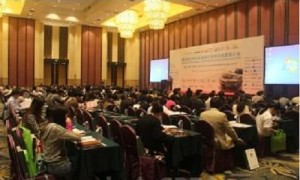 On the first day of the Conference, Wan Xinming, Vice President of China Automotive Engineering Research Institute Co., Ltd. gave an introduction on weight reduction application in the automotive industry. He emphasized that it is a comprehensive approach of structure enhancement and material application. However, as there are more limitations in modifying the vehicle structure, more focuses are put on developing new materials and processing technologies.
Among lightweight materials, high strength steel and low density polymers like plastics and composites are two major selections. Polymers commonly used in vehicles include polypropylene (PP), polyethylene (PE), polyvinyl chloride (PVC), polyamide (PA), polyoxymethylene (POM), polycarbonate (PC) and fiber reinforced plastics, etc.
Mr Wan mentioned in particular long fiber reinforced thermoplastic (LFT), widely used in Europe and US automotive industry, is one of the most important trends in lightweight construction. It will be a major material of choice because carbon fiber reinforced plastics (CFRP) is still too expensive for mass production.
Meanwhile, Society of Plastics Engineers (SPE) CEO Willem de Vos said that sustainable development and customization are two megatrends in automotive industry. Besides, bio-based materials will replace non bio-based materials as fillers.
Geely Automobile Co., Ltd. talked about the company's experience in lightweight applications: "Non-metal solutions can be divided into four major categories: metal-replacement, modulization and integration, structure enhancement and materials development."
Mr Xiong cited some examples: a vehicle cross-beam made of plastic composite weighs only 2kg, which is 50% lighter than its metal counterparts while offering the same safety performance; a wheel fender made of plastics reduces par weight by 40% while providing same level of protection for pedestrians.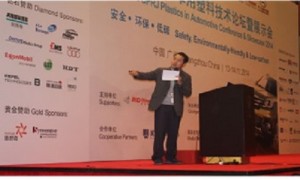 ShangHongbo, Chief Engineer of Non-Metal Material Dept., Beiqi Foton Automotive Engineering Research Institute , said an oil tank made of plastics can reduce weight by one third, as well as offering higher efficiency, design freedom and corrosive resistance. It is also anti-static with a long serving life.
According to ExxonMobil Chemical Services (Shanghai) Co., Ltd., its Santoprene thermoplastic vulcanizate (TPV) is a lightweight solution for window guide. Without changing the vehicle design, a window profile made of Santoprene TPV instead of ethylene propylene diene monomer (EPDM) rubber reduces weight by 29%.
Achieving modular design and production has been the target of Chinese automotive industry. A lot of vehicle parts and systems are produced in such way, for example, side door system, instrument panel, engine compartment, etc.
Metal replacement solution for front-end module becomes the latest development. In 2008, a front-end module made of metal comprised fifteen parts, said Mr Xiong. In 2014, an all-plastic frame with metal parts reinforcement structure can reduce weight by 30% while significantly reduces the use of parts.