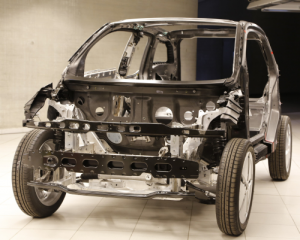 At a press conference in March, Norbert Reithofer, Chairman of the Board of Management of BMW AG, reported that several hundred advance orders have been received for the BMW i3 electric vehicle.
The BMW i3 is designed for use in urban areas and has a carbon fibre reinforced plastic (CFRP) passenger compartment and an aluminium chassis.The first pre-series BMW i3 came off the production line in January 2013. It will be on the market by the end of 2013.
The i3 will be 250-350 kg lighter than a conventional electric car, BMW reports, and it has an approximate range of 150 km.
The BMW i3 will require only half the time needed to produce a conventional vehicle, according to BMW, as a result of "unique production methods and a significantly lower number of assembly parts."
BMW also says it has developed time-saving repair methods specially for the CFRP components of the BMW i3. As a result, all of the accident repair costs are similar to those of a BMW 1-Series.
Source: www.reinforcedplastics.com