Joining flexible films
A long experience in film sealing allows Cibra to supply a wide range of sealing bars that can be applied on several types of converting machines such as slitting/rewinders and also on existing packaging machines. These bars are also used by engineering companies who build special custom machines for all sort of packing problems.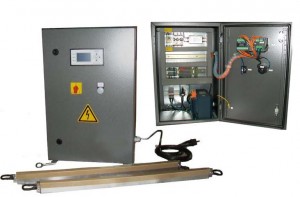 On most converting machines and machines that process rolls of flexible films, sooner or later it is necessary to join an ending roll to the next one. This junction allows film to proceed smoothly. It also avoids the need to stop packaging lines in order to reinsert the film through the entrance passages, often a time consuming operation.
Adhesive tape is often the easiest solution for a quick junction, that is in any case a waste part to be discarded. But there is a tendency toward cleaner solutions, based on the need to have homogeneous waste (easier to discard and recycle). In addition, the world of food packaging, that works on very high standards of hygiene and control, seems to start rejecting adhesive tape as film junction. Tape represents an unknown addition to materials that are otherwise carefully controlled even if they do not come in contact with food.
In view of these tendencies, manufacturers of converting machines are more and more oriented toward joining the films by sealing them.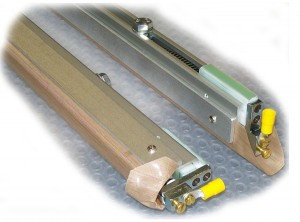 Sealing bars by Cibra can reach 3 metres width. They can join two layers of film one on top of the other or face-to-face, by means of an impulse ribbon seal that can be from 3 to 15 mm wide; as alternative to impulse, seal can be by hot bar. On stretch or shrink films the junction can be made by hot wire or impulse-controlled wire. Cibra can supply just the sealing bars, to be included into the basic converting or packaging machine, but, as alternative, sealing bars can be completed with a complete feeding/control box.
Seals that join films might be seldom required during the day; but no matter how many sealing operation are performed, it is essential that they be always perfect. A bad seal can stop production. To avoid these risks, Cibra can supply a very sophisticated control that works by microprocessor and guarantees the perfect repeatability of the sealing cycle. Times and temperatures can be precisely set on the film's requirements. Recipes can be stored for quick access. Control is operated on a display with user-friendly menus.
In addition to the junction of films, sealing bars by Cibra can solve several other problems. A special type of bar can seal the film onto the cardboard core of the rewinding machines, thus allowing a quick start of the new roll. Another special type of sealing bar has been developed by Cibra to avoid contamination on bags containing filters and on the LDPE liners used in the pharmaceutical field to avoid cross contamination in packaging and transporting systems.
Luca Mei
ASSOCOMAPLAST
Centro Direzionale Milanofiori, Palazzo F/3
P.O. Box 124, 20090 Assago MI, Italy
tel. +39 02 82283734
[email protected]
www.assocomaplast.org