PP buyers in Southeast Asia are keeping to the sidelines in anticipation of seeing further discounts in January after the New Year holidays in spite of the fact that PP prices remain at multi-year lows, according to data from ChemOrbis Price Index, which shows that import homo- PP prices on a CFR Southeast Asia basis are currently sitting at the lowest levels seen since early 2009.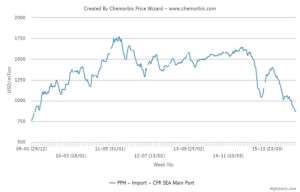 Even though spot PP prices are down approximately 37.8% from the 2015 highs recorded in May, buyers who still anticipate decreases are bidding for discounts on deals as the year ends. "We find it hard to predict additional decreases for PP after prices have already seen such steep reductions over the past few months. However, buyers are showing little interest in our current offers and we may need to give some additional ground before concluding deals," a distributor based in Thailand commented. A woven bag manufacturer in Indonesia reported receiving lower offers for domestic material on the week, commenting, "Our supplier lowered their prices in the face of steadily declining import costs and we believe that additional discounts might be available for buyers purchasing in large quantities. However, we feel that large declines are unlikely and that prices will reach the bottom soon."
As reported on www.ChemOrbis.com, another Indonesian converter reported receiving an offer for Saudi Arabian raffia with a reduction from the prior week. "We anticipate further decreases in January for both imported and domestic materials and we anticipate a $20-40/ton price cut from a domestic producer in the coming month. Local PP supplies are sufficient and this will pressure sellers to give discounts on their deals," the buyer stated. A trader based in Vietnam said that they concluded some import deals for Saudi Arabian and Indian raffia in the last few days before the holidays. "A new coal-based PP plant has recently started up in China and we expect this to contribute to regional oversupply and lower prices. Many buyers are currently meeting their needs from the local market as we hear that a domestic producer has sufficient stock levels," the trader stated.