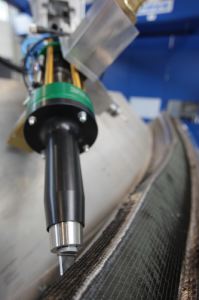 Reis Robotics has delivered a preform system to the ZLP Center for Lightweight Production Technology, Germany, as part of a project to automate the manufacture of carbon fibre reinforced plastic (CFRP) components.
The ZLP in Stade performs research for the aerospace, automotive, and wind energy industries. One of its projects (EVo – RTM-Processing for Net Shaped Parts in High Quantities) involves the development of a fully automated resin transfer moulding (RTM) process for the production of CFRP components in high volumes.
The EVo-process chain consists of the following sub-systems: ply preparation; preforming area; preform fine trimming; RTM press; curing oven; and master control system.
The Reis system automates several process steps and by means of robots, connects the preform process to the preceding materials supply stage and the following RTM process.
Reis Robotics, headquartered in Obernburg, Germany, specialises in turnkey automation systems.
Source: www.reinforcedplastics.com