Worms/Troisdorf, September 2014 | RJ Corps, the biggest franchisee of PepsiCo India, has installed a 3-layer EVOLUTION blown film line from Reifenhäuser Kiefel Extrusion at the plant of Varun Beverages located in Alwar, Rajasthan. The 2.6 metre wide line produces collation shrink film for packaging of Pepsi bottles and water bottles from PET. This high-performance line is the first blown film line of the company. With the investment, the Indian MNC completes its vertical diversification.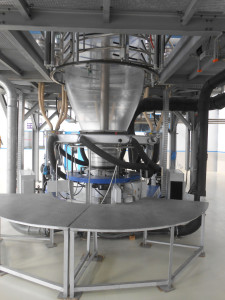 Reifenhäuser Kiefel Extrusion has equipped the line with state-of-the-art EVOLUTION Ultra Range extruders and Ultra Cool technology for high output and high quality film; Ultra Cool is the current state of the art in high-performance blown film cooling systems, with an output of up to 700 kg/h with Varun's recipes. The line is also provided with an EVOLUTION WP winder of the newest generation ensuring fast conversion of the film thanks to straight-edge winding and multi up rolls. The industry leading EVOLUTION C automation system developed by Reifenhäuser Kiefel features an intuitive user interface and 24" touch screen panel that enables Varun Beverages' employees to get familiar with the operation of the line, rapidly and without problem.
"We stand for a high quality in our markets. Therefore, our requirements with regard to system technology, film quality and project management are accordingly high. Reifenhäuser Kiefel Extrusion has done an excellent job. The line is producing top-quality film, and thanks to the skilled expertise, the team of our own employees, and the teams from Reifenhäuser Kiefel Extrusion and Reifenhäuser India were able to install the line and get it into production in just a few weeks," states the management of RJ Corps.
Reifenhäuser India headquartered in Mumbai and Delhi will continue to support RJ Corp locally by its experts trained in Germany.
More information : www.reifenhauser.com