Trexel Inc. said its MuCell microfoaming technology is able to lower material consumption while increasing productivity for thin-wall packaging applications.
The MuCell technology involves the introduction of nitrogen or CO2 as the foaming agent in supercritical state into the polymer in the plasticizing unit of an injection molding machine.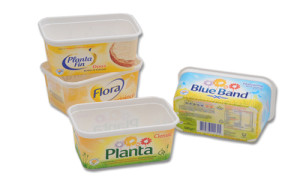 "Our customers have seen many marked process improvements by utilizing MuCell.  From reduced clamp tonnage requirements to significant part weight reduction, our technology provides them a real cost advantage," said Steve Braig, President and CEO of Trexel, Inc.
Citing Paccor's SLIM packaging as an example, the MuCell technology was able to reduce the package weight by 12-15 % while using existing 350 ton machines and incorporating the thinnest labels available on the market, according to Trexel.
The wall thickness of the base and sidewalls was reduced to 0.35mm, allowing 13% less total material consumption by design and foaming. The application can be done on a 350 ton machine with a 4+4 stack mold instead of 500+ ton machines. The injection pressure was down by 10% due to viscosity reduction.
Website: www.adsalecprj.com