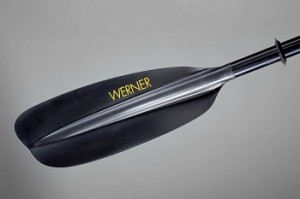 A manufacturer of handcrafted boating paddles' search for a carbon fiber compound that combined strength and aesthetics led it to a recycled content material that incorporates post-industrial scrap from aircraft production. Werner Paddles (Sultan, WA) sourced the grade from RTP Company (Winona, MN).
The paddle blades made from carbon fiber reinforced plastic are designed to look as good as they perform. "The carbon fiber compound Werner used for the blades is more commonly found in the manufacture of structural components where surface quality is not a priority," explained Tim Bailey, engineering manager of Werner's molder, KASO Plastics (Vancouver, WA).
"For Werner, the cosmetics of the material were as important as the strength, rigidity, and other physical properties." The challenge was to find a way to deliver both performance and aesthetics, which was proving difficult to realize with virgin grades.
Bailey and his engineering team tried upwards of a dozen different materials from several suppliers without success until they connected with custom compounder RTP who recommended the recycled content material.
The material, a carbon fiber reinforced compound, was developed by RTP with assistance from aircraft manufacturer Boeing who introduced them to the Aircraft Fleet Recycling Association, an emerging composite recycling network that Boeing helped establish.
According to Pete George, Boeing's Aircraft Composites Recycling Principal Investigator, "We looked to RTP for high-end applications to use carbon fiber reclaimed from manufacturing scrap from our 787 Dreamliner airplane production."
The premium, aircraft grade carbon fiber delivered the physical characteristics required at a lower fiber loading, allowing KASO to meet aesthetic requirements, something none of the virgin materials were able to do. "In addition," said Bailey, "The material is actually a little bit easier to process, and the system cost between the recycled content carbon fiber compound and virgin alternatives is insignificant."
"Werner's kayak paddle is a great example of Boeing's sustainable manufacturing strategy at work, where post-industrial scrap from aircraft production provides a high-performance solution for a consumer product," said Bill Carberry, Boeing's Aircraft Recycling Project Manager.
Pleased with the both the look and performance of the new blades, Werner knows that using recycled content in the manufacture of the blades will be especially attractive to the company's dedicated customer base of environmentally conscious outdoor enthusiasts.
SOURCE : http://www.plasticstoday.com/articles/recycled-aircraft-carbon-fiber-flows-through-kayak-paddle-20120821