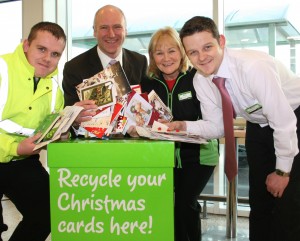 PERTH : Aussies spending $500 million on greeting cards and $100 million on gift wrappings each year, Christmas is the time to think about recycling.
PlanetArk recycling campaigns manager Janet Sparrow said recycling Christmas cards and paper could not be easier now most people had access to a kerbside recycling bin.
Sparrow said recycling reduced the use of energy, water and raw materials that went into paper production with every tonne of paper and cardboard that is recycled saving 3230 litres of landfill space; 23,700 litres of water; and 18,000KJ of energy.
She said manufacturing paper products from recycled material also not only conserved trees but used up to 50 per cent less energy and 90 per cent less water than making them from raw materials. Ms Sparrow said cards or wrapping paper made with plastic covers or that contained foil or cellophane should be disposed of in the garbage.
"Just think of the benefits you can save at home, simply by recycling your cards and paper wrapping this Christmas," Ms Sparrow said.
"Or, if you're a careful unwrapper, why not trim the edges of the paper, and reuse it next year?"
Other options to reuse and/or recycle your cards and wrapping paper:
Donate used cards and paper to a local child care centre, school or nursing home for use as craft materials.

Get creative and turn old cards and paper into new gift tags and cards. This is a great activity for the kids!

Cards and paper made from paper and cardboard can go in to worm farms or compost bins and can be used as mulch.