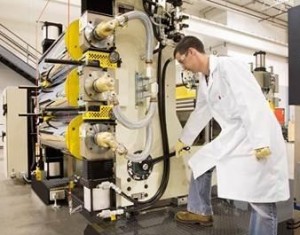 Processing Technologies International (PTi), a global manufacturer of high performance sheet extrusion machinery, has been awarded a US patent for its new ratchet-activated height adjustment device. "This new invention is built into the roll stand and delivers a distinct advantage, offering processors reduced cost and higher quality sheet materials," said James Johnson, PTi's Senior Vice President-Technical Consultant.
This is the third patent (No. 8,240,180 B2) that PTi has received for its G Series linear bearing mounted roll stand. Previously awarded patents include US 8,021,140 for the design of the G-Series linear bearing mounted roll stand and US 8,152,509 for the new manual roll gap adjustment device.
Typical sheet lines are set up with the die exit directly in-line with the primary roll nipping point. This is acceptable for many materials, however, polymers with low-viscosity such as PET, there is a tendency for the sheet to droop on the lower roll before nipping. This creates a skinning effect which results in undesirable stresses in the extruded sheet. Repositioning of the roll nip so it is lower than the die exit effectively minimizes the droop and significantly improves sheet quality. This repositioning is accomplished through adjusting the height of the rolls.
As a standard feature on its G-Series roll stand, PTi has incorporated a jack screw arrangement with ratchet operating mechanism for uniformly raising or lowering the stand on both sides within +/-1.0″. This cost-effective solution gives the operator the ability to make use of this adjustment while in full operation. An indicator provides the exact positioning of the rolls at all times.
As introduced, the patented G-Series roll stand has cooling rolls that are mounted on a linear motion guide track. Instead of moving the entire frame, only the cooling rolls move when access to the die network is required. Movement on the linear motion guide track is extremely precise and repeatable, ensuring exact tracking and precise sheet alignment. Initial installation of the G-Series roll stand takes only approximately 16 work hours. Leveling of the frame does not require track installation but instead uses leveling pads which are pinned to the floor. Another advantage of the G-Series design is the utility line for air, water, and electrical connections which are located beneath the frame deck plate.
This placement yields unimpeded access to all key components for serviceability and maintenance. In addition, the G-Series roll stand requires less space and fits in tighter confines because the frame does not move when the cooling rolls traverse back and forth, adds PTi. The roll stand is a key feature on its Globaline Series of sheet extrusion systems and is also sold separately.
Source : http://www.adsalecprj.com/Publicity/MarketNews/lang-eng/article-127298/Article.aspx