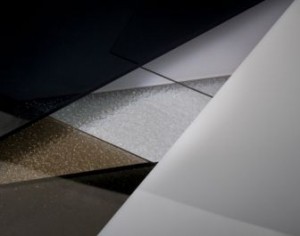 SABIC's Innovative Plastics has launched two new Lexan sheet products, the Lexan H6500, a new PC/acrylonitrile-butadiene-styrene (PC/ABS) sheet grade that complies with the upcoming CEN/TS 45545 harmonized standard, and LEXAN H6200, a new grade that complies with Germany's DIN norm.
 Lexan H6500 sheet is an opaque, solid, low-gloss PC/ABS blend that delivers high stiffness for railway sidewalls, tables and seating. Its sustainable flame retardant performance meets the requirements of the Restriction of Hazardous Substances (RoHS) directive and it delivers non-chlorinated and non-brominated product technology.
In addition to CEN/TS 45545 R6 (seating), Lexan H6500 sheet complies with current European standards including the French NF F16-101 M1F1 norm at 2-4mm. According to SABIC, the material can be thermoformed at a lower temperature than traditional PC materials. Its molded-in color capability can help avoid the cost and environmental hazards of secondary painting and provides nice aesthetics.
Meanwhile, Lexan H6200 complies with the German DIN 5510 norm: S3 SR2 ST2 at 3 mm and S4 SR2 ST2 at 4 mm. It is an alternative in less-demanding applications such as cladding, notes the company. It delivers strong impact performance at low temperatures ductility down to -20°C, good colorability and excellent thermoforming at lower temperatures than standard PC materials.
SABIC says both new Lexan sheet materials can significantly lower system costs through consolidation of parts to streamline production, avoidance of secondary operations such as painting and coating, machining and polishing, and lower shipping costs by reducing weight compared to metal, thermosets and glass. "To comply with the emerging fire safety norm, rail customers faced the very real prospect of replacing noncompliant thermoplastics with traditional metal and lower performing thermosets," said Jack Govers, General Manager, Specialty Film & Sheet, SABIC.
"But that meant sacrificing the benefits that thermoplastics can provide, such as design freedom, light weight and lower system costs. Our new Lexan sheet products are a great alternative to address these problems by giving our customers the high performance they needed to proactively align with the new standard, while also showcasing the specialized expertise and services that SABIC provides our customers to meet rail industry requirements and help achieve their business goals." SABIC's new Lexan sheet products were presented at InnoTrans 2012, held from September 18-21 in Berlin, Germany.
Source : http://www.adsalecprj.com/Publicity/MarketNews/lang-eng/article-127315/Article.aspx