Protan Group, a Norway-based manufacturer of roofing foils and ventilations tubes for tunnels and mines, has invested €1.2 million to upgrade its recycling facility for polyvinyl chloride (PVC) production left-overs.
Protan is now running a tailor-made three-in-one recycling installation for grinding, agglomerating and pulverizing supplied by German size-reduction technology specialist Pallmann. The company has reportedly recouped the investment in 18 months thanks to cost savings and increased capacity.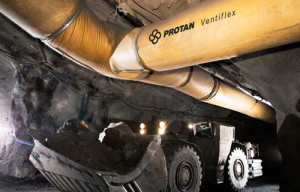 In the new recycling solution, grinding is undertaken by Pallmann's knife mill-type PS 4-7,5; agglomeration is carried out in a Plast agglomerator PFV 250; and a PolyGrinder PM 300 unit takes care of the pulverizing.
The machines are connected via conveying units, silos and collection units. Pallmann supplied and commissioned the entire package of components.
It is in its roofing products that Protan uses most of its recycled materials. On average, it incorporates 6% recyclate in its production process, most of which is sourced in-house.
Protan installed a reconditioned PFV agglomerator from Pallmann back in 2000, yet the solution has become outdated.
"It became increasingly unsuitable for the products and recipes we were working with, and its capacity was no longer sufficient," Tom Lillemoen, Protan's Technical Manager, explained. "On top of that, new products required new particle sizes, which could not be produced with the old technology."
Website:    www.adsalecprj.com