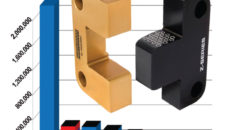 Progressive Components (Wauconda, IL) has introduced Z-Series Inserted Bar Locks for molds weighing from 25,000 to 75,000 pounds.
The bar locks allow mold designers and molders to select off-the-shelf components for the alignment of large molds. They provide the maximum amount of guidance and support for the minimum amount of machining required, and achieve long-term, precision registration of plates.
Other benefits include the largest standard alignment lock in the industry and elimination of in-house design and manufacturing.
The response from companies that build large molds has been great, according to Glenn Starkey, President of Progressive Components. "Those who build small to medium sized tools have a world of options for alignment, but for automotive and appliance tools, mold builders have been forced to make custom locks."
source-:https://www.plasticstoday.com/injection-molding/progressive-components-introduces-largest-standard-alignment-lock-industry/16996889156782