DSM DYNEEMA AND FNSS SIGN LETTER OF INTENT FOR FUTURE COOPERATION ON LIGHTWEIGHT, HIGH-PERFORMANCE ARMOR PROTECTION SOLUTIONS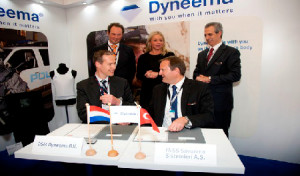 Istanbul, Turkey, 7 May 2013 – DSM Dyneema and FNSS Savunma Sistemleri A.Ş. today signed a Letter of Intent here at the IDEF 2013 exhibition. DSM Dyneema is the manufacturer of ultra high molecular weight polyethylene (UHMwPE) fiber, branded as Dyneema®, and world leader in life protection materials; and FNSS is a leading producer of armored vehicles, based in Turkey.
The signing affirms the companies' mutual interest in further cooperation to provide the best armor protection for FNSS's armored vehicles by capitalizing on the company's world-class manufacturing capabilities and DSM Dyneema's unique balance of cost efficiencies and exceptional high performance to meet all necessary requirements. DSM Dyneema and FNSS recently worked together on a major military vehicle project, the details of which will be jointly announced by the two companies shortly.
The Letter of Intent was signed by Dirk Louwers, marketing manager Life Protection, EMEA, DSM Dyneema, Bastiaan de Koning, director sales, EMEA, DSM Dyneema, Nail Kurt, general manager and CEO, FNSS, and Reed McPeak, assistant general manager, FNSS. It was signed in the presence of The Netherlands Minister of Defence, Jeanine Hennis-Plasschaert, at the DSM Dyneema booth #284A in Hall 2.The letter demonstrates the strong and longstanding collaborative relationship between The Netherlands and Turkey, and underscores DSM Dyneema's commitment to FNSS as a valued customer.
Both companies will concentrate on the development of improved armor concepts, mainly spall liner systems, to meet market demand for cost efficiency, high performance, low weight, and enhanced design flexibility for vehicle manufacturers. They will explore the commercialization of improved armor designs with the Dyneema® material in FNSS vehicles for Turkey's domestic and export markets.