Organizers of Chinaplas complimented for their imaginative and thought provoking subjects for seminars, lecture meetings and also for creating a forum for investment opportunities in emerging markets of South East Asia including India. They provided a platform to countries like India, Indonesia, Thailand etc. to show case potential of business opportunities in their countries. India was fortunate to have been included in this seminar on 26th April 2014.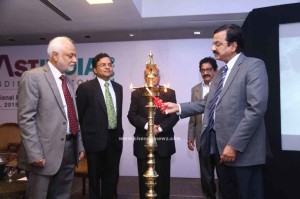 Under the guidance of our parent Ministry of Chemical & Fertilizers, Department of Chemicals & Petrochemicals (DCPC) an introduction was given by Mr. Indrajit Pal, IAS, Secretary department highlighting Government of India's role in creating Four Petroleum, Chemicals and Petrochemicals Investment Regions (PCPIRS) in coastal states of Andhra Pradesh, Gujarat, Odisa & Tamilnadu. These will be totally integrated areas giving boost to further growth to this industry. Mr. Pal also gave an overview of support being extended by his ministry to create a very congenial atmosphere of growth to this sunrise industry.
He encouraged Mr. M. N. Patel Chairman, National Advisory Board (NAB) of Plastindia Foundation 2015 to share about investment opportunities in India by polymer industry.
Mr. M.N. Patel by virtue of not only being the biggest manufacturer of Plastics processing machines in India but also as Chairman of National Advisory Board (NAB) of Plastindia Foundation drew attention of very large number of delegates about Macro Economic Scenario. Ease of investment and growth opportunities being provided as most promising destination for investment in Plastic industry in India.
He emphasized on the following about India:-
Robust economy with strong fundamentals being 10th largest in the world and 4th largest by PPP

GDP to cross 5 trillion by 2020.

High growth of FDI
Population of over 1.2 billion with median age of 24 years.
2nd largest English speaking population in the world.
Large work force – skilled & educated
Growing consumer market
40% of global middle class consumption by 2050
Highly supportive Federal & State Government and Financial Institutions.
Over 30,000 plastic processing units with over 30 MMT capacity spread across length & breath of India.
Total consumption likely to grow from present 11.8 MMT to over 20 MMT by 2020 with per capita consumption going up from 9.5kgs to over 20kgs by 2020.
Mr. Patel informed the highly knowledgeable gathering about Government of India's Policy of Technology up gradation Fund (TUF) and also PCPIRS and state government's plastics processing parks etc. This presentation evoked a very positive response from the audience.