First ever PLASTIC PIPES in India were installed in early 1960s at Chhatrapur, Uttar Pradesh. In this span of just over 5 decades, the plastic pipes industry in India has grown leaps and bounds and is catering to practically all the end use segments including water & waste water transportation, plumbing, agriculture, electrical and telecommunication, gas transmission, industrial chemicals etc.
To celebrate the successful 50 years of Plastic Pipes in India, Society of Plastic Engineers (SPE) – India organized a 2 – day International conference on Plastic Pipes – "Plastic Pipes 2015 – Current Scenario & Future tends", at Mumbai on 2nd & 3rd December 2015.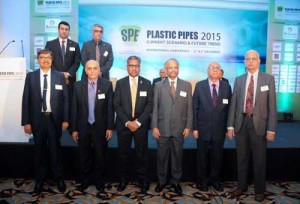 First of its kind of an event in India, the conference created lot of excitement in the entire value chain of the plastic pipes industry. About 325 delegates from—- organizations from across the globe attended the conference.
The conference had take home for all the stake holders and also offered an excellent networking opportunity for the resin manufacturers, additive manufacturers, machinery manufacturers, testing and certification bodies, infrastructure project managements and consultants, Institutions, End users and Government agencies etc.
On the first day, the conference was opened with Welcome address by Mr. Rajiv Sanghavi– President SPE India. Mr. Vijay Boolani, Vice President SPE India introduced the conference committee members – Dr. Shreekant Diwan (Conference Chairman), Mr. Haresh R. Pillay (conference Co-Chairman), Mr. Rajiv Sanghavi, Mr. Ramesh Parasuraman and Mr. Surinder S. Ahluwalia.
Keynote addresses were delivered by Mr. Ajay Shah – President, Reliance Industries Ltd., Mr. Willem DeVos – CEO, SPE; and by Mr. V. Suresh – President HIRCO Ltd. Mr. Ajay Shah covered the entire history of evolution of pipes and stressed upon the merits of plastic pipes over the entire life cycle. Highlighting the potential for plastic pipes in the 'Make in India' program, he also appealed to all the stake holders for continual development and upgradation of technology to meet the ever increasing demand. Mr. V. Suresh covered in depth the infrastructure development in the country and the tremendous potential for the plastic pipes therein. Mr. DeVos touching upon the technological advancements in general advised the stake holders that keeping with time and continuous ugradation is the need of the hour.
Excellent dinner speech on Day 1 was delivered by none other than Mr. Radhakrishnan Pillai – the Professional Management Speaker. He enlightened the packed house of delegates with importance of leadership and management principles of ancient literature – "Arthashastra" by Chanakya and the applicability in today's business modules.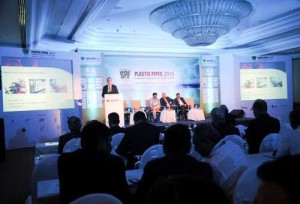 The action packed program of the 2 days covered 8 business sessions wherein 25 presentations were delivered by domestic and International experts who shared their expertise with the delegates on broad topics including:
 Raw materials,
 Additive & Masterbatches,
 Machinery,
 New Product design and testing tools,
 Rehabilitation of ageing traditional pipelines,
 Standardization and norms,
 Life cycle assessments,
 Sustainability
The important end use sectors in today's environment viz. underground drainage, gas distribution, micro ducts in telecom sector, desalination projects, effluent water pipeline were covered by the industry experts. Talks were also delivered to give insight into the technological advancements such as Corrugated pipes, Oriented Pipes, Spiral wound pipes, Foam-core pipes. Also the downstream equipment, jointing techniques, trenchless installations were covered in details. Experts from the additive sector highlighted the role and importance of these materials incorporated in the plastic pipes compounds. Topics like standardization and norms touched upon the important aspects of quality. Case studies covered by the project executors gave an idea of different end use sectors and conditions wherein plastic pipes could be laid and put into use.
A small exhibition covering latest developments in machinery, products, additives, jointing techniques etc. in the next door hall very well supported the conference topics.
Team SPE India felicitated 3 stalwarts who have a major contribution to the growth of Indian Plastic Pipe industry. After serving the industry individually for more than 5 decades, these experts are still very active, full of enthusiasm and eager as always to contribute to the growth of the industry. They are none other than Mr. A. R. Parasuraman, Mr. G. K. Srinivasan and Mr. P. G. Kuppuswamy. A spontaneous standing ovation was given by all the delegates to these stalwarts.
The well-organized successful conference ended with closing remarks and vote of thanks by Mr. Ramesh Parasuraman – Secretary, SPE India.
Website:                                   www.plasticpipes2015.com