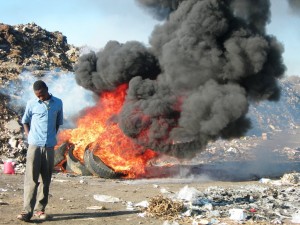 According to latest news from the US plastic industry the plastic manufacturing giant Dragon Polymers has identified a new potential landfill site containing Nylon 66 in the state of South Carolina. The move has put in a new strength and dimension in the industry as it would help the country and various stake holders get benefitted. While talking to industry professionals and experts the company said it will initiate and start testing on the site around 1st quarter of 2013.
There are various stake holders and technology providers that would help the company in its endeavor to extract and produce Nylon 66 in the state of North Carolina. Among these technology providers Ecole Polytechnic and Montreal's Geophysics department will be the key technology providers that will offer the company Electrical Resistivity Tomography technology to determine how much Nylon 66 exists at the site. The new landfill potential is still unknown but will add to the companies estimated reserves of over 35,000,000 lbs. of Nylon 66.
According to sources in plastic industry the site is spanned in an area of 20 acres in the state of South Carolina that has the potential to offer massive Nylon production to the country for its development and progress. The new site is located with 10 miles of our current landfill site in Greenwood, South Carolina.
Though there are many hurdles that lie in the way and one of them are technical methodology to identify the Nylon reservoir in the site. The company is taking assistance from various companies that are in the field of geophysics and electrical resistivity and tomography. In geophysics, electrical resistivity tomography uses electrodes on the surface of the earth or in bore holes to locate resistivity anomalies, and in industrial process monitoring the arrays of electrodes are for instance use to monitor mixtures of conductive fluids in vessels or pipes. This method is used in Industrial Process Imaging for imaging conductive fluids.
About Dragon Polymers
The company is a reseller in the field of industrial polymers. Viewing the growing need and demand of industrial polymers in the regions the company is focusing its efforts in the reclamation of polymers, specifically Polyethylene Terephthalate and commercial grade Nylon6. The company believes that there is a tremendous potential of Nylon 6 in various regions of United States it should be explored and identified.