AHMEDABAD: Plastic objects, from the everyday bag to large containers, are infamous for their immortality. They can survive for hundreds — even thousands — of years and are often the cause for indestructible mounds of waste around cities.But two academic institutes from Gujarat have come up with a solution – gluttonous bacteria that can degrade plastic within a few days.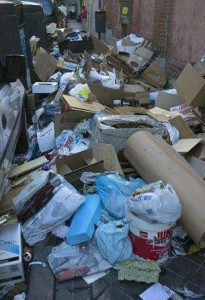 The school of environment of the Central University of Gujarat (CUG) successfully tested their bacteria on solid waste samples from one of Ahmedabad's ugliest sights – the Pirana dumpsite. A&R Patel Institute of Biotechnology and Allied Sciences (ARIBAS), Anand of Charotar Vidya Mandal tested another set of bacteria on plastic pellets collected from the Umreth landfill site.
Ahmedabad is one of the top consumers of plastics among 64 non-metro cities in the country, according to a study by the Central Pollution Control Board ( CPCB).
Dean of school of environment at CUG, M F Fulekar, who led the research said, "My team found eight different potent bacteria that not only decomposed plastic collected from Pirana, but also hazardous, e-waste and metal waste dumped there. The effective decomposition period under lab condition was 30 days."
He added that they were able to successfully identify the most potent bacteria families that would work on Pirana, which has already reached its saturation point. At present, this mountain of waste holds 180 lakh metric tonnes which has accumulated over 33 years.
"The bacterial cultures were developed separately and then added to the waste mixture at three different temperature stages. The first was at 25 degree Celsius, the second culture was added at 40 degree Celsius and the third bacteria culture was added between temperatures of 45 to 60 degrees. We are confident that these bacteria will work on the landfill site," he said.
The team of researchers under Devjani Banerjee at ARIBAS identified one bacteria belonging to the family of Micrococcaceae gram positive bacteria and two bacteria belonging to the Enterobacterceae family that decomposed three different types of plastics — low density polyethylene, polypropylene and polyvinyl chloride powder.
Source:  articles.timesofindia.indiatimes.com/2013-11-21/environment/44326249_1_bacteria-landfill-site-pirana