C&J Industries (Meadville, PA), responding to growth in medical and other markets, is now operating four new all-electric Toshiba as well as a new AGIE Charmilles FO550 Die-Sinking EDM machine. C&J Industries says that it has invested over $10 million over the past four years in new capital equipment and expansion projects.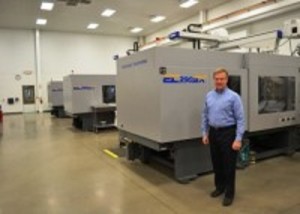 In 2011, C&J Industries completed a $6.8 million expansion and renovation project that became fully operational in January of 2012. With the recent purchase of $1.4 million in new equipment there are now 50 injection molding machines at the facilities that range from 20 tons to 720 tons of clamping pressure. C&J Industries currently has three Class VIII cleanrooms for molding. It also has a 2500-sq-ft Class VII clean assembly room for medical devices.
"This expansion was in response to double-digit growth over the three previous years," said David Lennox, VP of Operations for C&J Industries. "We believe much of our growth is tied to our unique mold warranty, which is 10 years for a production mold built by C&J Industries. This warranty provides a worry-free guarantee of uninterrupted production for medical and pharmaceutical customers."
The company has increased its operations in medical devices, telecommunications, industrial, consumer, pharmaceutical and transportation markets.C&J Industries, founded 50 years ago, describes itself as a full-service pharmaceutical and medical contract device manufacturing firm specializing in plastic product design and development, custom contract medical device assembly and medical injection molding components.
Like many American molders, C&J has been shaped by three major economic bumps in recent years: the dotcom bust, escalating foreign competition and the Great Recession. The company's strategies have focused on improved technology and total solutions.
Source: http://www.plasticstoday.com/articles/pennsylvania-molder-adds-four-electric-toshibas0611201301