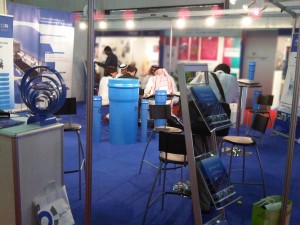 Arabplast tradeshow is far reaching among the Middle Eastern markets through its comprehensive presentation of innovative solutions for the plastics & rubber industry. No wonder it is now firmly established as the right meeting place for the international suppliers who want to target Middle Eastern markets, the perfect opportunity for Molecor to display its technology and PVC-O pipe possibilities.The growth of this last show, held from 7th to 10st January 2013, reflects the high global demand for plastics, raw materials and machinery.
ArabPlast 2013 showcased latest technologies and tracked market trends of the Middle East plastics and rubber industry, which continues to be the world's largest exporter, offloading the majority of its output to international markets. Companies from all over the world, USA, Turkey, Egypt, Canada, UK, Germany, Belgium, Germany, Italy, China, Switzerland, Spain, Norway, KSA, Jordan, Lebanon, Oman, Qatar, UAE, India and Iran were present at the show.
ArabPlast 2013 exhibited new products and technologies in injection moulding, blow molding, wrapping and packaging, pre and post plastic processing techniques, such as Molecor Technology, as well as raw materials. The show covered a wide spectrum of plastic machinery, plastic/rubber processing technology, pre and post-processing systems, plastic packaging technology, injection and blow molding, wrapping technology, extrusions, chemicals and additives, semi finished goods, engineering plastics and plastic products.
Molecor participated with Juffali group, the sales agents for KSA. Molecor has secured its position in the market, after its participation during last edition, and reported promising contacts for new business possibilities, due to the priviledged position reached by the company in the piping business market. It has specially reinforced business relations with companies and collaborators from UAE and Saudi Arabia.
There has also been a great interest from growing economies such as Iran or Pakistan, where it is expected to gain presence in the coming future. India participation in the show was also remarkable.
Molecor visitor's more common profile is related to the piping industry sector well recognized in its markets as PVC-U and HDPE manufacturers. However, it was noticeable a number of visitors not in water pressure business, surprised with PVC-O performance. The highly decision making competence of visitors is another point to highlight. Further cooperation is expected to start after the fair.
Most visitors came from GCC countries, a reflection on the growing importance to strengthening their manufacturing industries, which are known to be sustainable investments. Future Molecor Tech possibilities in the GCC region are challenging and promising
Source: http://molecor.us2.list-manage.com/track/click?u=1a788ae7e4188447dc321f1e2&id=500b6c8e50&e=eb2c52e216