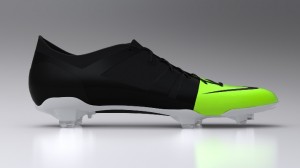 Nike GS "Green Speed" Football Boot Incorporates Lightweight PebaxFoam® insole to reduce weight Zotefoams, the foam technology company, announces that its high performance, ultra lightweight PebaxFoam® is Nike's preferred insole material for the recently introduced GS – "Green Speed" football boot.
Designed and developed in just 12 months and weighing in at just 160 grams, the Nike GS football boot turned out to be the Company's lightest, fastest boot yet, but low weight was a by-product of thinking about everything you need in a boot for the high speed game. Part of this thinking was to utilize PebaxFoam for the thermoformed insole. PebaxFoam is a new, high-performance, thermoplastic elastomer (TPE) foam material that is three times lighter than conventional EVA foams with similar cushioning properties.
It is a closed-cell foam material, expanded using pure nitrogen and without the use of potentially harmful chemical blowing agents. PebaxFoam combines the many exciting mechanical and chemical properties of Pebax® with the benefits of the environmentally friendly, Zotefoams nitrogen saturation foaming process. Characterised by its ultra light weight, good energy return and excellent flex fatigue performance, PebaxFoam retains these properties over a wide temperature range and down to -40°C.
Many consider the Nike GS – "Green Speed" football boot to be the most innovative ever created in terms of design, development, construction and materials, and Zotefoams is proud of the role that PebaxFoam has played in its development.