Nidaplast from France is launching a new sandwich panel finishing service to its Nidaskin line for the construction industry.The sandwich panels with finished edges consist of a polypropylene (PP) honeycomb core and a choice of five different skins: medium-density fibreboard (MDF), high-pressure laminate (HPL), polyester, aluminum and MDF + HPL. Target markets are indoor or outdoor architecture, partitioning furniture, worktops, private passenger cars, and events.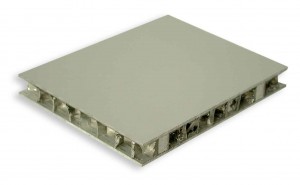 "What is really new is that our offering allows tailoring our products to our customers' specifications. Thanks to our honeycomb expertise, we can meet the demands of designers with a custom offer in terms of dimensions, thickness, edges, choice of skin, fire protection possibilities, and more," says Fabien Vaillant, a Nidaplast engineer.
Nidaplast Composites is also introducing the nidaplast 8 FR, a fire retardant material with the capability to slow down flame propagation. Its enables the finished sandwich panel to keep the same mechanical properties as nidaplast 8, and therefore allows the use of very thin skins, says the company.Furthermore, if the skin is classified M1, the entire sandwich panel will also be classified M1.
"We are boosting our international presence and making our product ranges available to international markets (dimensions, certification, etc.). We also are offering services that correspond to our product offer: it has taken us a year to reinforce our international teams and optimize our logistics," says Group General Manager Patrick Stievenard.
Nidaplast will be exhibiting its new services and products at JEC Europe 2014, taking place from March 11-13 in Paris, France.