US material supplier PolyOne Corporation has worked with the Netherland-based Xindao and its design studio XD Design in Shanghai, to increase the content of renewable resources within the new XD Design Sunshine Solar Charger.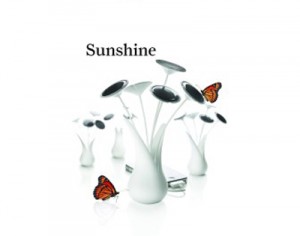 PolyOne, Xindao and XD Design developed all of the molded plastic casing components for this charger from reSound biopolymer, which Xindao estimates will reduce the CO2 footprint of this product by as much as 35%.
The Sunshine solar charger, with its array of five solar cells, is the newest item created by the XD Design team in a range of solar chargers for cellphones and tablets that take their design inspiration from nature.
Ryan McSorley, Head Designer at XD Design, explained, "We want our end users to have fun interacting with these products. We also want the chargers to be long lasting, and as sustainable as possible."
While Mr. McSorley's team had used acrylonitrile butadiene styrene (ABS) on earlier chargers in the XD Design line, they collaborated with PolyOne to develop a durable, bio-based reSound formulation.
To successfully make the housing and stems on the Sunshine, reSound material had to match the performance and surface finish of ABS as closely as possible.
Chris Lefteri, an Industrial Designer and a Materials Consultant for Xindao, explained, "Finding a sustainable material with equal performance to traditional polymers is a common challenge for many of our clients as they strive to reduce their carbon footprint. Using reSound, a durable, eco-conscious material that offers the same functional and aesthetic behavior as conventional engineering polymers, enabled XD Design to reach both performance and sustainability goals."
Marcel Dartée, Director of Global Marketing for Sustainability and Biosolutions at PolyOne, said, "For the Sunshine project, our development teams in China, Europe and the US worked jointly with the company's design and manufacturing resources to create this success."
Source:  www.adsalecprj.com/Publicity/MarketNews/lang-eng/article-67007013/Article.aspx