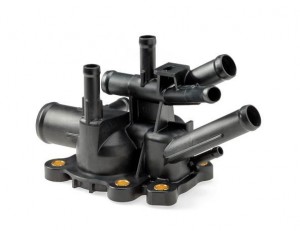 ALPHARETTA, Ga., November 15, 2012 – Nissan Motor Co.'s 10-port water outlets for 1.6-2.5-L engines, which are injection molded of Amodel® polyphthalamide (PPA) from Solvay Specialty Polymers USA, LLC, were recognized with the powertrain award at the 42nd Annual Society of Plastics Engineers (SPE) Automotive Innovation Awards Competition. The award was presented to Nissan during the SPE Awards Competition and Gala Nov. 7 in Livonia, Mich.
Amodel® PPA's high elongation permits the elimination of the parting line commonly required for injection molding and part extraction to produce this complex part at a cost savings and 450-gram weight reduction versus metal. The innovative automotive cooling part, manufactured by MPC Inc., an injection molder based in Walworth, Wis., was also recognized at the NPE 2012 show earlier this year in Orlando, Fla., capturing the Single Part Award in the second annual International Plastics Design Competition (IPDC), sponsored by the Society of the Plastics Industry (SPI).
One of the key differentiating factors for Amodel® PPA and an important reason for its selection for Nissan's water outlet is its ability to be injection molded without producing a parting line on the barb of the 10 outlet and inlet tubes. In a typical plastic part, the parting line could be very sharp and could create a cut during installation, resulting in a coolant leak path. To avoid such a quality issue, OEMs specify no parting line in the barbed area.
Solvay's Amodel® AS-1933 has superior elongation at the recommended mold temperature of 135°C (275°F) compared to other PPAs and polyphenylene sulfide (PPS). The material's elongation allows injection molders to eject the parts from the mold without producing a parting line in the barbed area, unlike conventional injection molding. Seamless barb joints are made possible through precision timing of multiple valve gates and multiple slide actions to properly form this complex part in one piece.
"The bottom line is that Amodel® PPA made possible the molding of this highly complex part," said Andre Carvalho, global automotive market manager for Solvay Specialty Polymers. "Amodel® PPA's unique properties are clearly superior to the competition and they were the deciding factor in the successful production of this complex assembly." AS grades of Amodel® PPA reduce cost, use simple tooling, and speed cycle times. They have been successfully used by many auto OEMs in numerous heating and cooling components.
Among the key design guidelines and recommendations: the maximum undercut ratio should be around 8-9% and the ejection angle should be greater than 150 degrees. In case of outlets with a small diameter, it is possible to mold the undercut in the range of 12-13% with a special provision. The plastic water outlet eliminates the need for 18 machining operations and eliminates 20 potential leak paths.
It achieves machined metal tolerance right out of the mold without any secondary machining. Tooling for competitive cast aluminum parts should be replaced after about 100,000 cycles which adds to the cost. In comparison, tooling for Amodel® PPA injection molded parts will last the life of the Nissan engine program. The main function of the water outlet is to act as a manifold for the cooling system. The outlet features 10 seamless barb ports that feed coolant to and from the transmission cooler, throttle cooler, heater core, oil cooler, and provides coolant to the radiator.
Amodel® PPA has been the preferred material in engine cooling components for over 20 years because it exhibits high retention of mechanical properties over 5000 hours in ethylene glycol (engine coolant). Other competing materials such as conventional nylons have failed to withstand the requirements of these systems due to significant loss of mechanical properties when exposed to ethylene glycol.