Based on its recent analysis of Plastic Modifiers in Europe, Frost & Sullivan has recognised the development of the new XIRAN® IZ grades produced by Polyscope with the 2013 Frost & Sullivan New Product Innovation Leadership Award. Through this Award, Polyscope is rewarded for its continued innovation and product line expansion.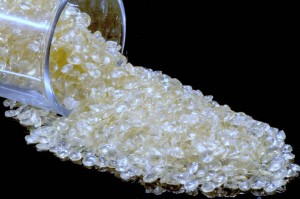 The New Product Innovation Leadership Award focuses on two recently launched terpolymers, XIRAN IZ1018M and XIRAN IZ0721M. These grades assist in increasing the heat performance of many engineering plastics, particularly styrenic polymers. The XIRAN IZ plastic modifiers are composed of various proportions of styrene, maleic anhydride and N-phenylmaleimide.
While the styrene and the N-phenylmaleimide group enable the high glass transition temperature as well as high heat deflection temperature (HDT), the maleic anhydride content helps with better adhesion to coatings or paints, as well as between different polymers in a blend. These modifiers also preserve or improve the dimensional stability over wide temperature ranges and can also be used as effective compatibilizers or coupling agents. In particular, XIRAN IZ grades can be efficiently used with ABS or ABS blends, while still maintaining low volatile residue content.
XIRAN IZ engineering plastics compounds can be injection molded and extruded for cost-efficient production of engineering plastic parts. The parts made from these new compounds not only exhibit optimum toughness, improved HDT performance, high dimensional stability and improved paintability, but also excel in reducing weight, enhancing fuel efficiency, increasing durability and overall thermal performance.
The Frost & Sullivan benchmarking report recognises that "By developing this product, Polyscope proves its competence not only in responding to the unmet needs for new and innovative products, but also in understanding the "why" by drawing upon its years of experience and expertise in the plastic modifiers market. The features and capabilities of the new XIRAN IZ grades produced by Polyscope clearly demonstrate the company's commitment to new product innovation." The report concludes that "the endeavour of Polyscope deserves to be recognized and lauded."
Patrick Muezers (Managing Director) at Polyscope said: "XIRAN IZ based compounds provide an ideal solution for automotive applications, such as airducts, centre stacks, control panels, defrosting grilles, instrument panels, and sunroof frames. Additionally, the new grades can be effectively utilized in other industries, such as railways, as well as in under-the-hood parts, food and non-food packaging, construction, electronics and appliances where improved temperature profile can play a significant role." He adds: "The IZ grades can also be used to strengthen the performance features of the recycled polymer, thus effectively capitalizing on the encouraging development of polymer recycling infrastructure."
The Frost & Sullivan Product Innovation Awards recognise companies in a variety of regional and global markets for demonstrating outstanding achievement and superior performance in areas such as leadership, technological innovation, customer service, and strategic product development. Industry analysts compare market participants and measure performance through in-depth interviews, analysis, and extensive secondary research in order to identify best practices in the industry.