Mid Wales based Newtown Plastics  is reporting saving nearly £2,000 a year in energy costs on one of its injection moulding machines since retrofitting an ABB variable-speed drive (VSD). – See more at: 
The plastic components manufacturer fitted the VSD following a joint energy appraisal report by ABB and City Electrical Factors (CEF).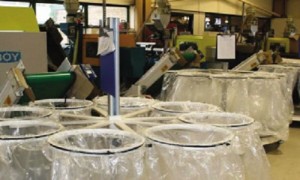 "The energy appraisal showed that the company could save £1,963 on energy costs, with an 18 months payback," says ene3rgy consultant Wayne Trematick, adding that it was a very compelling report.
Simon Church, director of Newtown Plastics, says that a machine with an 18.5kW motor was identified as a prime candidate for retrofitting a VSD. "We have 14 machines but this one was identified, because it had such a long cycle time," explains Church.
"It operates for 40 weeks a year making a perfume display case and requires a long cooling time. During this time, the hydraulic motor is not doing any work but is still running at top speed, so this was an obvious choice."
Church says there are several other bigger machines, but since these all operate with a faster cycle time, retrofitting VSD control is not considered appropriate, Looking at the refitted injection moulder in question, speed is not now controlled via a pressure transducer, but instead relies on the drive's internal load measurements to decide when the pump is doing useful work or recycling  back to the tank.
When the pump is recirculating, while the plastic part is being cooled, motor speed is now dropped to 50%. Off-load power has hence been reduced from 7kW to 3.7kW, giving the annual saving reported. Says Church:
"I have been very impressed with the savings. We have a compressor with a VSD and our new machines come equipped with servo drives so we know about the technology of VSDs and can't fault them."