Monprene® CP Series Compounds from Teknor Apex Are Standard Grades Now Available Worldwide for Quick Sampling
PAWTUCKET, RI, U.S.A., June 9, 2015: A new family of thermoplastic elastomers (TPEs) for consumer products provides vivid color, tactile appeal, and soft-grip ergonomics while spanning a broad range of physical properties and exhibiting excellent moldability, it was announced today by Teknor Apex Company, which will introduce the compounds at Fakuma 2015 (Stand B5-5315).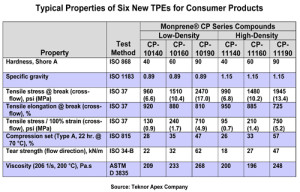 Monprene® CP Series compounds are standard products available in identical formulations to customers in North America, Europe, and Asia. Two series are available: Monprene CP-10100 low-density compounds, with specific gravity of 0.89; and Monprene CP-11100 high-density compounds, with specific gravity of 1.15. Initially each series is comprised of six grades with Shore A hardness ranging from 40 to 90. (See table for properties of selected grades.)
With a light hue in natural form, Monprene CP Series compounds exhibit excellent colorability. All grades are suitable for skin contact and are resistant to cosmetics and household chemicals. When over-molded onto a rigid substrate, they provide a soft grip with ergonomic benefits.
The high-flow properties of Monprene CP Series TPEs make them suitable for a wide range of part shapes and sizes in injection, insert, and two-component molding. They exhibit excellent adhesion to polyolefins.
Teknor Apex recommends Monprene CP Series compounds for grip, handle, cushion, anti-skid, anti-vibration, knob, and button applications in such products as writing instruments, sporting goods, appliances, tools, personal care items such as toothbrushes and razors, and flexible or soft items like toys.
"The versatility of the Monprene CP Series family provides OEMs and molders with great design flexibility," said Brian Mulvany, senior market manager for the TPE Division of Teknor Apex. "These new materials are safe enough for skin contact yet still tough enough to resist the chemicals commonly found in household cleaners."
Teknor Apex maintains inventories of all standard Monprene CP Series grades to ensure fast and easy sample turnaround for customers everywhere, Mr. Mulvany noted. "We produce these new compounds at all of our TPE manufacturing locations worldwide, ensuring dependable and steady supply in any region around the globe."
Website:     www.teknorapex.com