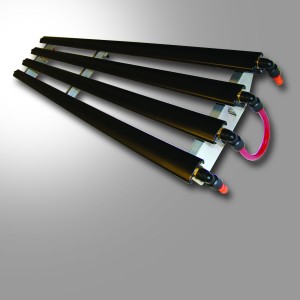 SAVANNAH, NY (March 24, 2013) – Blown film processors can increase output by as much as 10% to 20% plus reap additional benefits with new Pre-Nip Chiller Spreaders from Pearl Technologies, Inc.
Offered to processors who experience blocking or have low ceiling heights, pre-nip chiller spreaders from Pearl are custom designed to mount at the top of the tent frame. They require only 8" of vertical space on the collapsing frame – in many cases, all that is needed is to remove the top two slats or rollers for installation.
Benefits of the pre-nip chiller spreaders include:
Custom designed to fit any line

Improves film quality

Increases output by 10% – 20%, up to 50% for thick film producers

Eliminates film blocking, saves on anti-block additives

Can reduce film temperatures by as much as 50°F

Prevents sag at unwind

Eliminates wrinkles in the nip assembly
Pearl engineers design and manufacture consumable parts for converting and extrusion capital equipment with custom made process enhancements. Extrusion products are primarily used in the blown film industry to improve film quality at higher outputs, reduce scrap at start-up and reduce maintenance. Pearl Technologies, a Gloucester Engineering Company, was founded in 1985 and has built a worldwide reputation of producing quality product solutions based on first class customer service.
For more information:www.pearltechinc.com