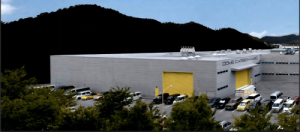 In a further move to expand its carbon composites business Toray Industries Inc has announced that it will purchase Dome Carbon Magic Ltd (DCM), a Japanese producer of carbon fibre reinforced plastic (CFRP) parts for racing cars, from Dome Co Ltd.
DCM, which employees 65 people, has been producing a number of CFRP parts for the automotive industry and other applications. Japanese carbon fibre producer Toray plans to rename the company Toray Carbon Magic Co Ltd.
Toray will also acquire a 75% stake in Dome Composites (Thailand) Co Ltd (DCT), located in Thailand. DCT, a joint venture with Saha Group, has been mass-producing high-quality products at competitive prices using autoclave technology. Toray will rename this subsidiary Carbon Magic (Thailand) Co Ltd. The company employs 70 staff.
Expansion in automotive composites
Toray is currently developing products and design and manufacturing technologies for carbon fibre composite materials at the Advanced Composite Center and Automotive Center in its Nagoya Plant, Japan.
In 2008 Toray took a stake in ACE Advanced Composite Engineering GmbH, Germany, a manufacturer of CFRP parts using resin transfer moulding (RTM) (see Toray invests in European composites manufacturer). And in 2011 it established Euro Advanced Carbon Fiber Composites GmbH (EACC), Germany, in a joint venture with car maker Daimler for manufacturing CFRP parts (see Daimler and Toray establish joint venture for manufacture of carbon fibre parts.)
The acquisition of DCM enhances Toray's CFRP parts design expertise and also secures a manufacturing foothold for carbon fibre composites in Thailand. Toray will acquire the businesses in April 2013.
Source: http://www.reinforcedplastics.com/view/31390/toray-to-acquire-automotive-parts-manufacturer-dome-carbon-magic/