Because of the Superior Properties of a New Styrenic TPE Series in the Medalist® Range from Teknor Apex, Minnesota Wire Is Using the Compounds Commercially to Replace TPVs
ST. PAUL, MN, U.S.A., February 3, 2014: Minnesota Wire, a specialist in the custom design and production of cable assemblies for medical devices, has replaced the thermoplastic vulcanizate (TPV) elastomers that are standard in such applications with new styrenic thermoplastic elastomer (TPE-S) compounds from Teknor Apex Company, citing better performance initially and after autoclaving, superior processing, and an enhanced look and feel in the end product.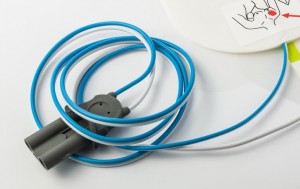 The TPE-S compounds, Medalist® MD-8421, MD-8431, and MD-8451, comprise a series within Teknor Apex's Medalist product range, a diversified family of high-purity medical elastomers that also includes other TPE types, among them TPVs. At MD&M West, Teknor Apex will present data on the new compounds in a new white paper available at its exhibit during MD&M (Booth 2532). Also exhibiting at the show, Minnesota Wire will be available to answer questions about its use of the new materials (Booth 1743).
"We've tested the new Medalist compounds and found them to have better tensile and elongation properties than TPVs before autoclaving and to retain more of these properties after multiple autoclave cycles—an important advantage in the many medical devices intended for reuse," said Jeff Lewison, design engineer at Minnesota Wire. "In addition, the Medalist compounds are more stable in extrusion, and in injection molding their improved processability means that we can lower the pressures to reduce the likelihood of defects when we're molding over delicate circuitry. Customers will like the fact that our product just looks and feels better."
Enhanced electrical properties is another advantage of the new Medalist compounds cited by Mr. Lewison.  "We can run cables with thinner walls, which enables them to coil better, and the improved electricals enable us to use these compounds in insulation as well as jacketing."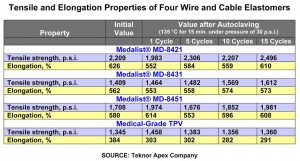 The white paper by Teknor Apex will provide test data comparing the three new Medalist compounds with a standard medical-grade TPV used in wire and cable. In tests measuring tensile strength and elongation, all three Medalist grades exhibited greater values for these properties prior to autoclaving and greater property retention after as many as 15 autoclave cycles (see table).
"The new Medalist compounds address the issue of limited resistance to multiple autoclave cycles that has been a problem for the TPVs that are currently the standard materials for medical wire and cable jacketing," said Ross Van Royen, senior medical market manager for the TPE Division of Teknor Apex and a co-author of the white paper. "And while standard TPVs are restricted in color to natural and black, TPE-S compounds are available in a variety of custom-matched colors that have important functional value in complex cable assemblies."
Medalist MD-8421, MD-8431, and MD-8451 elastomers can be used for insulation, jacketing, and molded fittings and connectors. They have Shore A hardness levels of 92, 69, and 82, respectively, a flammability classification of HB (UL-94), and a maximum continuous operating temperature rating of 105 ºC (UL-1581). Besides superior performance in autoclaving, the three compounds also retain high levels of tensile strength, tensile modulus, and elongation after gamma irradiation and EtO sterilization. They are resistant to the cleaning and antimicrobial solutions commonly used in medical facilities.
The new TPEs are manufactured in an ISO-13485 facility dedicated to Medalist medical elastomers. Medalist 8421, 8431, and 8451 compounds pass ISO-10993-5 cytotoxicity testing, are RoHS- and REACH- compliant, and are free of animal-derived materials, phthalates, and latex proteins.
Founded in 1968, Minnesota Wire is a custom wire and cable manufacturer that specializes in cable assemblies, R&D, testing, and design engineering. It has extensive experience as a supplier to medical, defense, and industrial companies. Minnesota Wire is headquartered at 1835 Energy Park Drive, St. Paul, MN 55108 U.S.A. Tel: 1-651-642-1800. Visit www.mnwire.com.