Optical measurement reaches new dimension. Speed, accuracy and accessibility change the rules for scanning.
Hexagon Metrology has launched the HP-O technology solution, a new scanning technology on stationary CMMs based on frequency-modulated interferometric optical distance measurement.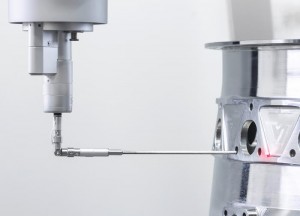 HP-O features an accuracy and reliability comparable to tactile scanning probes, a higher scanning speed, increased measurement range and the generic optic advantage of non-contact measurements. It is an alternative for high-precision tactile measurements when speed is important, parts are difficult to access for tactile probes or when parts are deformed or get damaged by tactile probing.
The HP-O solution is multi-sensor compatible – multiple optical heads or tactile probes are interchangeable in a single program using the standard tool changer. Optical measurements can be made in single point or scanning mode with 3- or 4-axis scanning in open loop mode. The solution is launched as a complete system including Hexagon Metrology software QUINDOS and Leitz PMM-C high-accuracy CMM.
The new lightweight probe head works with an acceptance angle of up to ±30 degrees and offers repeatability below 0.3μm. The benefits of HP-O technology are unique:
Touch-free process – no mechanical influence on the part, eliminating wear on the stylus tip and marks on the part.

Probe diameter as small as 3mm and measurement range up to 20mm provide access to points inaccessible by tactile probes.

Reduced mechanical probing restrictions and high data collection rate enable high scanning speeds.

High spatial resolution measures smallest details down to microscopic scale.

Acquires feature information easily with higher density. 
"Many people want to measure optically to avoid some of the limitations of tactile probing such as scratching sensitive surfaces," said Ingo Lindner, product line manager at Hexagon Metrology. "However, optical sensors are often difficult to integrate into the standardized workflow of CMMs, so they tend to be used only in special circumstances. But with the HP-O solution, which was developed specifically for Hexagon Metrology CMMs, we believe we have found the way to establish optical scanning with a speed that out performs other systems."
About Hexagon Metrology
Hexagon Metrology offers a comprehensive range of products and services for all industrial metrology applications in sectors such as automotive, aerospace, energy and medical. We support our customers with actionable measurement information along the complete life cycle of a product – from development and design to production, assembly and final inspection.
With more than 20 production facilities and 70 Precision Centers for service and demonstrations, and a network of over 100 distribution partners on five continents, we empower our customers to fully control their manufacturing processes, enhancing the quality of products and increasing efficiency in manufacturing plants around the world. For more information, visit  www.hexagonmetrology.com.
Hexagon Metrology is part of Hexagon (Nordic exchange: HEXA B). Hexagon is a leading global provider of design, measurement and visualisation technologies that enable customers to design, measure and position objects, and process and present data.