Egyptian players were mostly away from their desks during this past week as the working schedules were interrupted by the national holidays as per ChemOrbis. The main event of the week was the local PET producer EIPET's resumption of operations following a strike that took over two weeks. Now, players anticipate a better week in line with the return of the players to the market.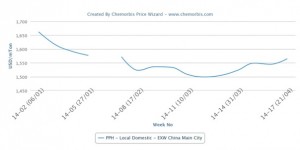 In the PP market, a converter receiving offers at the high end of the range noted, "Overall market activities were slow due to the holidays last week. Regarding availability, it is ample but prices retained their levels despite sufficient supplies and the muted demand during the holidays. Sellers were adamant on their prices given the higher US dollar parity. Regarding our end business, raffia sacks, we do not see satisfying demand. However, in general, we anticipate better market conditions this week as most players will return to their desks."
A different converter, producing film products, commented, "We purchased some locally held PP and PE cargoes during last week. We admit seeing weak demand last week due to the holidays but we anticipate better market conditions this week. We run at 90-100% capacity at the moment and we feel tightness on HDPE and PP film supplies."
In the PE market, the local producer SIDPEC started to deliver HDPE blow moulding to the market and this situation eased the supply issues a bit for this product. According to a company source, SIDPEC is now delivering satisfying quotas to the market for all HDPE grades. "Given the consecutive national holidays that were celebrated last week, buying interest was weak. However, for May, we anticipate a slightly firmer trend as the US dollar parity has been increasing," added the source.
A film and injection products manufacturer noted that overall demand was limited and the market continued to be overshadowed by liquidity issues. However, he added that PP and PE prices were mostly stable at firm levels as Middle Eastern cargoes continued to be limited for most products.
Looking at the PS market, a distributor remarked, "Import offers were scarce during the long holiday week as most players were out of the market. Some distributors cut their locally held PS prices last week due to lack of buyers, but we kept our offer levels steady. However, we are still open to negotiations in return for serious buying interest."
A different distributor confirmed the stable to softer trend for PS prices during last week while adding that they are anticipating better market conditions this week when all players return to their desks.
In the PET market, the local producer EIPET was reported to resume their operations by the middle of last week, according to press releases. Talks with the president of ECHEM and the president of Enppi were said to persuade the workers to return to their work as they were promised their earned allowances. The PET plant's operations had been suspended for over two weeks.
According to ChemOrbis, a trader offering PET commented on the market sentiment by saying, "PET prices might be negotiable depending on the purchasing volumes." A different trader said that they have seen some improvements on PET demand. "Because of this slight recovery, we have seen firmer import prices," he further added.