Bangalore: Essentra plc (Essentra" or "the Company") has showcased its new purpose-built, standalone facility in Bangalore, India for the first time. The facility initiated production in November 2013, and has the capacity to accommodate manufacturing, warehousing and the appropriate commercial infrastructure for all Essentra's business activities, excluding the Company's successful joint venture with ITC in Filter Products which remains unchanged.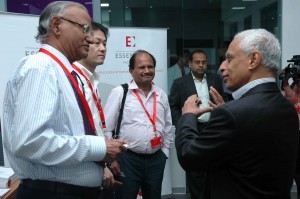 P T Sreekumar – Managing Director, Asia Region, commented: "India is a key opportunity market for Essentra, and the investment we have made in this dedicated facility will allow the Company to serve customers even better with our extensive range of speciality components, supported by our considerable experience and technical expertise. As such, the establishment of our new site will provide a platform from which to develop all Essentra's business activities in India, and underscores our commitment to this important, fast-growing market."
Essentra's 70,000 sq. ft. state-of-the-art, fully air-conditioned site is located in the Peenya Industrial Area, and has been designed for optimal machine and material storage for cost effectiveness. With potential employment for up to 100 individuals, the plant is headed up by General Manager Mr A Narayanaswamy who joined the Essentra Group in 2000. The factory meets Essentra's internal high standards for quality, and has already gained the triple certification of ISO 9001, ISO 14001 and OHSAS 18001 as well as the BRC / IoP global standard for packaging and packaging materials.
Essentra (India) Private Limited, the Group company responsible for operating the facility in India, currently brings together the manufacturing and sales activities of Essentra's Packaging and Porous Technologies divisions, as well as the commercial, customer and warehousing capabilities of its Components and Speciality Tapes businesses. In addition, the Company is in the process of evaluating the opportunities to establish manufacturing for Healthcare Packaging so as to extend its product offering into more value-added areas such as folding carton and leaflets, as well as for its custom profile Extrusion operations.