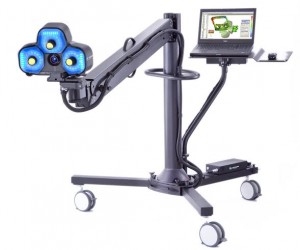 The WLS qFLASH extends Hexagon Metrology's optical 3D measurement offering and makes advanced white light solutions more portable and budget-friendly.
Hexagon Metrology announced today the WLS qFLASH, a compact white light measurement solution. The WLS qFLASH enables manufacturers of medium to small size parts to measure surfaces and features in crowded areas or shop floor environments.
The Hexagon Metrology WLS qFLASH is a convenient and affordable tool for measurement applications such as automotive plastic parts or interiors as well as small sheet metal and casting parts. Rapid image acquisition, robust carbon fibre housing, Blue LED illumination and handheld operation mode create a fast, versatile and reliable portable white light measurement solution.
"The WLS qFLASH comes with proven technology based on the WLS400 product family. It has a small footprint, low weight and is very budget-friendly", said Aviel First, Head of Sales and Marketing for Hexagon Metrology's White Light Product Line. "Everything comes in one box and is easy to handle. Together with the new software version CoreView 7.0, we're enhancing our white light solution offering."
The WLS qFLASH is available immediately through Hexagon Metrology's sales network and resellers. Local contacts can be found at www.hexagonmetrology.com/contacts.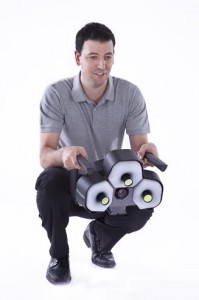 About Hexagon Metrology
Hexagon Metrology offers a comprehensive range of products and services for all industrial metrology applications in sectors such as automotive, aerospace, energy and medical. We support our customers with actionable measurement information along the complete life cycle of a product – from development and design to production, assembly and final inspection.
With more than 20 production facilities and 70 Precision Centers for service and demonstrations, and a network of over 100 distribution partners on five continents, we empower our customers to fully control their manufacturing processes, enhancing the quality of products and increasing efficiency in manufacturing plants around the world. For more information, visit  www.hexagonmetrology.com.
Hexagon Metrology is part of Hexagon (Nordic exchange: HEXA B). Hexagon is a leading global provider of design, measurement and visualisation technologies that enable customers to design, measure and position objects, and process and present data.