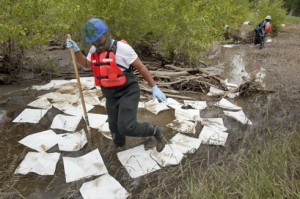 Oil fell to near $98 a barrel Monday in Asia as the crude market waited for the outcome of Greece's negotiations with creditors on a deal to cut the face value of its debt by half.
Benchmark crude for March delivery was down 15 cents at $98.19 a barrel at late afternoon Bangkok time in electronic trading on the New York Mercantile Exchange. The contract fell $2.21 to end at $98.33 per barrel in New York on Friday.
Brent crude was down 35 cents at $109.51 a barrel on the ICE futures exchange in London.
Benchmark oil has ranged from ranged from about $98 to $102 in the past week. It has been buffeted by tensions in the Middle East after Iran's threat to close the Strait of Hormuz in the Persian Gulf and the likelihood that Europe will slide into recession amid the region's sovereign debt crisis.
Iran has threatened to close the strait if the U.S. and other countries impose more sanctions on it because of its nuclear program. Many analysts doubt that Iran could set up a blockade for long, but any supply shortages would cause supplies to tighten.
Over the weekend, the representative of Greece's private creditors said the talks are continuing even after his unexpected departure from the country.
A deal in Athens would allow the country to receive a second bailout package from other European governments and the International Monetary Fund, and cut Greece's debt from an estimated 160 percent of its annual economic output to 120 percent by 2020.
That is still painfully high, but without the help, Greece will not be able to pay 14.5 billion euros in debt due March 20. A Greek default would send borrowing costs higher across Europe and could trigger chaos in the global financial system.
In other energy trading on Nymex, gasoline was up 0.8 cent at $2.80 a gallon and heating oil was up 2.1 cents at $3.01 a gallon. Natural gas futures fell 9.2 cents to $2.25 per 1,000 cubic feet.
Source : old.news.yahoo.com