At FAKUMA 2012, 16th to 20th October 2012 in Friedrichshafen, motan-colortronic will present a series of innovations during the exhibition on their stand in Hall B1 on Stand 1111. In the areas of materials management – drying, conveying, dosing and mixing – a number of new highlights will be presented: LUXOR CA 8, SilentLine, GRAVInet GP and a high temperature version of the SPECTROCOLOR G. These are just some examples of how motan-colortronic strives to provide application-oriented solutions that help processors become competitive by making them more efficient. The result – greater profitability.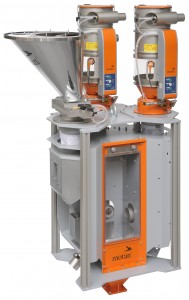 GRAVInet GP
"GRAVI" refers to a control system for gravimetric applications. "net" means it can be networked within motan's overall control environment, and "GP" stands for the proven GRAVIPLUS dosing and mixing system. The new control system has been designed throughout on a modular basis: for logic, interfaces, human / machine interface (HMI), etc. The numbers of dosing modules it can control are virtually unlimited. At least four process lines can be simultaneously controlled and monitored.
GRAVInet GP continuously regulates up to eight material combinations and does it synchronously. The well known, existing operator interface used up to now in the GRAVIPLUS control system has been basically retained, but extensively optimised. The new large WEBpanel with its 12.1″ TFT touchscreen is supplied together with pre-installed GRAVInet GP visualisation software. Connection to the GRAVInet GP control system is made via Ethernet. GRAVInet GP is therefore a fully-fledged member of the motan CONTROLnet family. As such, it can be easily combined with other motan control systems for storage, conveying, drying, dosing and mixing operations.
SilentLine
Both silence and security in conveying of plastic granulate is now ensured by a newly patent applied for double-walled stainless steel material feed-line system called SilentLine. The space between the two pipes forms an air buffer that insulates the inner material feed-line – and so the material which is being transported – from the surrounding environment. This dampens the conveying noise considerably and ensures a quiet working environment. SilentLine reduces the noise level by at least 12 dB(A). This is equivalent to a noise reduction of more than 50 percent. Gentle material conveying obtained by use of the IntelliFlow system from motan provides an additional six dB(A) of noise reduction.
In addition this system offers detection of a loss of vacuum within the SilentLine pipeline. This is unique in the market and ensures – with the aid of an externally applied flow sensor – that leaks can be immediately detected and eliminated. This means there is no longer any need for time and cost consuming visual controls along hundreds of metres of pipelines and laborious repairs. Because of its double pipe construction SilentLine ensures conveying continues even if a vacuum leak is detected so no interruption in material conveying or production outage.
A further advantage of SilentLine is that it acts as a heat insulator. The air buffer between the inner and outer pipes reduces heat loss from the pipeline to its surroundings. As dried material therefore reaches the processing machinery without cooling down to a critical level, there is then often no
22.08.2012, FRIEDRICHSDORF
longer a need for installation of an additional local drier. "SilentLine can be combined with great effect with all conventional pipelines from motan, at critical points in production halls, or at particularly vulnerable pipeline sections. This makes a further contribution towards increasing efficiency in
resources and energy," says Ulrich Eberhardt, Group Managing Director & CEO at motan holding gmbh in Konstanz.
New LUXOR CA 8
motan-colortronic now offers the LUXOR CA compressed air dryers in four sizes. The LUXOR CA 8 with its 8 litre drying bin and a drying performance of 1.5-4.0 kg/h is a new arrival, adding to the existing 15, 30 and 60 litre versions. All models use compressed air that has been reduced to atmospheric pressure. The LUXOR CA series stands for sophisticated functionality und operation friendliness. The operation elements are self-explanatory. The air quantity is infinitely variable.
With a graphic display of air quantity for different materials and throughputs, the operator has all setting parameters available for him to see at a glance. Thy cylindrical LUXOR CA drying bins are completely insulated. This guarantees an even drying process with low energy consumption. On account of their lightweight and compact design, LUXOR CA dryers can be easily mounted on all types of processing machines. As an option, they can also be used on mobile frames with castors that are characterised by low footprint, high stability and robustness.
SPECTROCOLOR G in high temperature version
Precision and consistency of recipes are key factors in product quality and therefore also profitability. The SPECTROCOLOR G mixing and dosing system has entered the extrusion market based on motan material management know-how. Used in applications that include for example blown film, profile and pipe extrusion, cast film and sheets, cable coating and fibres, but also compounding, means that all extrusion disciplines are covered. The high temperature version has been designed for material input temperatures of max. 180°C or 355°F. In addition to the above mentioned applications, the high temperature SPECTROCOLOR G can now also be used in the production of PA and PET fibres and high temperature sheets and films. Customer advantages: flexible, process oriented adaptation to flood-fed single-screw extruders as well as for starve-fed twin-screw extruders.
This mixing and dosing system is also characterised by high precision dosing that is maintained over the short and long term. It provides the user with highest blend consistency due to the motan specific gravity mixing principle. Reliable refilling the SPECTROCOLOR G is guaranteed with either positive closure pneumatic discharge flaps or a feed hopper with a double slide valve. Furthermore, the combination possibilities of up to six dosing modules, each with a throughput range of 0.2-1,200 kg/h per dosing axis, leaves virtually no option uncovered. The operator also has an intuitive control  system available for his use – a touchscreen LCD-TFT colour display and an installation assistant (so- called wizard).
Process monitoring visualised by graphing of process data curves for each dosing module, as well as for the entire dosing station. With the modular design SPECTROCOLOR G for LIW (Loss-In-Weight) dosing of easy and normal flowing granules and regrind, the customer receives equipment with a very attractive price-performance ratio. An extensive series of tests in continual operation have confirmed constant high dosing performance with a dosing consistency of up to 0.5 percent. As a result, highest operating security and therefore absolutely reliable repeatability can be guaranteed. All metal parts in contact with the granulate are of stainless steel and all weighing hoppers are fitted with an inspection window for control of the filled level. Automatic calibration and recipe storage for a number
22.08.2012, FRIEDRICHSDORF
of mixing recipes are included as part of the standard equipment supplied. In order to monitor the product quality, the real weighed and dosed amounts are continuously compared with set values by a feedback regulation system. An Ethernet connection to the material management system provides means of data exchange, data control and networking with LIW process data. A 5.7″ touchscreen colour monitor communicates as a small PC with a programmable logic controller (PLC) software function. The SPECTROCOLOR G can exchange technical data with an overlaying production data acquisition (PDA) system and databanks by means of an open process control (OPC) server.
The motan Group
The motan Group, with its headquarters in Konstanz on Lake Constance in Germany, was founded in 1947. As the leading provider of sustainable materials handling, the company is active in injection moulding, blow moulding, extrusion and compounding, in-line and chemicals. Part of the application-
orientated product spectrum are innovative modular systems solutions for the storage, drying and crystallisation, for the conveying, dosing and mixing for plastics manufacturing and processing industries. Manufacture takes place at various production locations in Germany, India and China. motan distributes its products and systems solutions via its regional motan-colortronic centers. Currently, more than 450 employees contribute to an annual turnover of approximately 100 million Euros. As a result of its network and its many years of experience, motan offers its customers what they actually require: solutions with genuine added value.