Middle Eastern suppliers started to announce their new import PP and PE prices to Turkey this week as per the pricing service of ChemOrbis. The regional producers approached the market with hike requests while pointing to their limited availability for the last month of the year. These increases followed Petkim's hike announcement on Monday, while insufficient prompt supplies and relatively fewer offers from Iranian sources were also other factors drawing a firmer outlook.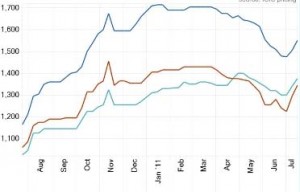 Converters received increases of up to $40/ton for PE from a major Middle Eastern producer amidst market talk that the supplier doesn't have comfortable supplies for certain products. The latest December announcements represented increases of $30-40/ton for LLDPE film and HDPE film, while the LDPE film level was stable to $10/ton higher with respect to the last November levels.
A packaging converter said, "We received $30/ton higher LLDPE film offers from the producer and hope to get a $10/ton discount from initial levels. We believe that the market will not rise more than around $30/ton for December." Another packager received higher LDPE, LLDPE and HDPE prices from the producer, noting, "We found the producer's new figures high and locally held materials might be more competitive to buy for us."
A third buyer commented, "Prices are firming up while traders are not in the market as they usually are during upward trends. Iranians are either not offering or not giving certain shipment terms. We may have to pay these increases to the Middle Eastern producer as we can hardly find prompt materials. We are covered until mid-December."
A different Middle Eastern producer lifted their prices by $20/ton for homo-PP, $10/ton for PP copolymer while issuing hikes of $30-40/ton for LDPE and HDPE. "We are holding very limited stocks at our warehouses as we do not want to hold inventory before the year end," a producer source said. The source also thinks that prices are likely to remain on a firming trend, although demand is not as strong as they would like.
A third Middle Eastern producer raised their prices for December by $30-50/ton for homo-PP and by $30/ton for HDPE and LLDPE while keeping their PP copolymer prices mostly stable. "Demand has improved somewhat compared to last month. We plan to take a firm stance on our prices as we believe that buyers will eventually accept these new price levels," said a source at the producer.
Apart from these suppliers, a global producer's Middle Eastern LDPE and LLDPE offers emerged $30-50/ton above the latest November prices, while another Middle Eastern origin was revealed $40-55/ton higher for the same products. A trader offering material on behalf of another Middle Eastern producer reported lifting their prices by $30-35/ton month over month. "Our availability remains limited for PE," he reported.
A global producer plans to lift their December prices by around $50/ton for PP and PE on its Middle Eastern cargos. "Our stocks will be limited for December," a producer source mentioned, adding that buying interest is healthy as they are receiving a good number of inquiries these days. A second global producer also reported that they will announce their December offers next week. "We may try to obtain $50/ton increases for materials from our Middle Eastern plant. We believe that we will be able to achieve $20-30/ton hikes. Our supply from Europe may be limited for December due to Christmas holidays," a producer source stated.
A trader said that they have not been able to receive offers for Iranian HDPE film so far. "Local supply is tight for HDPE, LLDPE and PP raffia nowadays. Indeed, we generally expect to see increases between $20-40/ton for all polymers," he added.
Another trader announced his new December PP fibre and BOPP prices for a Middle Eastern origin. "We are giving only limited volumes for December as we diverted most of our cargoes to Asia. For PP block copolymer, we did not announce any price to Turkey for December. Although buyers are still looking for price relief, prices are likely to edge gradually higher especially towards the second half of December," he noted.
According to ChemOrbis, the outlook remains firm in Turkey's PP and PE markets for the time being based on limited local supplies as well as firm European and Chinese markets. Indeed, even after the recent hike attempts from sellers, Turkey's import market continues to trade below China although it should normally carry a traditional premium.