It has been the fourth month in a row that price hikes have been materializing in Turkey's PE market. Regular Middle Eastern suppliers started to reveal their May prices late last week with a Saudi major pioneering the monthly hikes in hefty amounts as per ChemOrbis pricing service.
The Saudi major's new offer levels indicate a monthly increase of $100-140/ton for LLDPE and HDPE film for its cargoes offered from the bonded-warehouse. Buyers continued to report limited allocation from the producer for this month as has been the case in the past few months.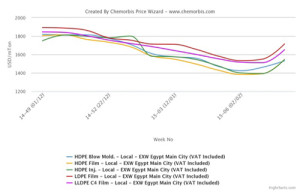 PE offers from the Qatari producer have also been steadily moving higher on a weekly basis in Turkey. Following a cumulative increase of $120/ton since early April in several weekly adjustments, offers for this origin are up by a further $20-40/ton this week, according to players.
Another Saudi producer also reported lifting its May offers by $80-90/ton for HDPE blow moulding, and $110/ton for HDPE film. "We have limited availability for HDPE film and blow moulding. However, demand is disappointing and these price increases are only driven by supply tightness," said a source from the producer.
According to ChemOrbis, apart from the persisting concerns about limited availability from the Middle Eastern suppliers, the constant gains of ethylene both in Asia and Europe have supported sellers' hike requests. Nevertheless, players are widely drawing attention to the return of crackers particularly in Asia, which is expected to put downward pressure on ethylene. Spot prices for Asian ethylene have already retreated by $65/ton in the first two trading days of the week after the steady increases that began in early February. The spread between ethylene and naphtha still remains at a record high, meanwhile.