The Maag brands, Maag Pump Systems and Automatik Pelletizing Systems, will show a special design of its SPHERO underwater pelletizing system as well as its BAOLI and BAOMO dry cut strand pelletizer at CHINAPLAS 2015.
The extrex 90 extrusion pump from Maag Pump Systems will be shown feeding melt to the SPHERO S. Also part of the system is the CSC 116-RS screen changer with arched screen cavities.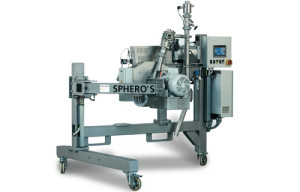 As said, the newly-designed underwater pelletizing system SPHERO S incorporates a variety of feature upgrades, making it suitable for masterbatch and recycling applications with medium throughputs, typically between 700-3,000kg/h.
Improvements include a new frame that allows the SPHERO S to be mounted on a single mobile structure guarantees a perfect alignment, and a reduced footprint. Special attention has been given to the design of the cutter head to facilitate start-up and to ensure less agglomeration and production of evenly shaped pellets.
The BAOLI line of dry-cut strand pelletizers is tailor-made for the Chinese market, which are manufactured in Maag-Automatiks' local facility in Shanghai. The BAOLI series is available in three basic machine sizes with operating widths of 100 mm, 200 mm and 300 mm.
The BAOMO series, also manufactured in China with key components imported from Germany, provides simple access for cleaning and maintenance through the use of cantilevered bearings. The strand pelletizer is engineered for small batch operations, as is commonly required for masterbatch or laboratory applications.
Website:  www.adsalecprj.com