Lower American PVC offers faded away in Turkey owing to the recent hike attempts starting from late last week as per the pricing service of ChemOrbis. The shifting sentiment boosted price inquiries and led to firm expectations for new US prices although some players questioned the sustainability of this trend given the approaching year-end and bearish Asian markets like China and Southeast Asia. Similarly, a couple of higher prices emerged in another Mediterranean market, namely Egypt for the same origin this week. Buyers in that country expect to see firmer US prices soon on reports of limited availability.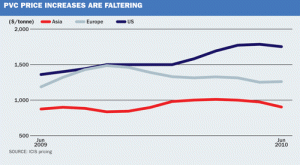 Indeed, export PVC prices out of the US recently gained ground driven by increased buying interest amidst restocking of overseas buyers who are taking advantage of lower prices after consecutive price drops for these cargos. Another trigger behind higher prices was surging spot ethylene costs in the US. Spot ethylene prices soared 3.5 cents/lb ($77/ton) on FD USG basis just from early November. The latest figures represented a larger increase of 5 cents/lb ($110/ton) compared to the beginning of October.
In Turkey, players had been questioning whether US PVC k67 prices would hit the $900/ton threshold after seeing $930/ton CFR Turkey, subject to 6.5% customs and $45/ton anti-dumping duty, cash heading to the end of October. Late last week, two traders revised their offers up by $20/ton for US cargoes after withdrawing their previous prices at the low end of the market. This week, a limited number of offers from the country are reported at a much higher level of at $960-975/ton with traders waiting to receive new indications from their suppliers soon.
A trader reported that they lifted their American PVC prices by $10/ton from last week but this price is more likely to be a notional level at the moment since they already sold out their limited cargoes. "We wait to hear our supplier's December prices. If American offers firm up, European offers, too, may start firming up. Yet, to be honest, there are no indications in that direction from Europe," he commented. Two other traders expect to receive some increases from their American suppliers.
Others noted however, that it is the low season for PVC applications. A distributor commented that US PVC offers may not move up much more as dissatisfying demand persists in Turkey. "Prices could show a real upturn only if supply constraints occurred," he said. Players reported no supply concerns so far this week amidst sufficient prompt materials in the local market except for a few distributors' reports about their limited materials. A pipe and profile manufacturer stated, "There is no problem about supply. We don't think that sellers can raise their prices when there is not enough demand. We are going to receive new US offers from traders soon."
According to ChemOrbis, in Egypt, buyers reported receiving higher American PVC prices amidst supply constraints this week while a very limited number of import offers emerged so far. Sellers' claims about having restricted import availability caused buyers to come with firmer expectations regarding the coming days. Two converters predicted that US PVC prices may see the $1000/ton threshold on CIF Alexandria, 180 days deferred payment basis by next week.