Original equipment manufacturers' (OEMs) emphasis on high performance and lightweighting is spawning new opportunities for the global automotive elastomers market, said Frost & Sullivan.
The global automotive elastomers market, with revenues of US$8.83 billion in 2014, is estimated to reach US$13.06 billion in 2021.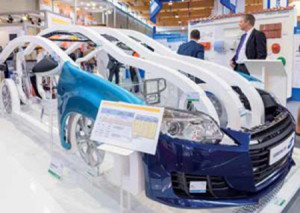 "The design flexibility and recyclability of thermoplastic elastomers give them an edge over competing plastic and composite materials," said Frost & Sullivan Visionary Science Research Analyst Shubhayan Sarkar. "Their penetration will gather pace as rapid innovation expands application scope."
Bio-based thermoplastic elastomers, in particular, are making headway in the automotive sector as OEMs increasingly focus on raising the sustainability of their products, according to Frost & Sullivan's report.
Although these materials serve a niche segment currently, the growing push from elastomer manufacturers to derive monomers from bio-based sources will broaden their prospects in the automotive sector.
On the flip side, the high costs of switching to thermoplastic elastomers could restrain adoption, the report said.
Market saturation of certain elastomers such as nitrile butadiene rubber (NBR) in under-the-hood applications and the introduction of competitive materials such as specialty plastics are also likely to dampen overall market growth.
To succeed in a space where several materials are vying for market share, product differentiation will be a key. Offering innovative customer support mechanisms will also help manufacturers stay afloat in this highly competitive domain.
"End-user emphasis on product performance and longevity presents a significant opportunity for market participants to develop high-performance products," stated Sarkar. "Therefore, major elastomer companies will look to partner or acquire regional manufacturers to gain access to their technical competence, distribution channels and customer base and thus, establish a strong foothold in the global market."
Website:                  www.adsalecprj.com