Krauss Maffei of Munich, Germany supplied four large MX Series injection moulding machines to BSH Bosch and Siemens Hausgerate in China. The leading whiteware manufacturer will use the injection moulders for the production of washing machine tubs in their Nanjing facility.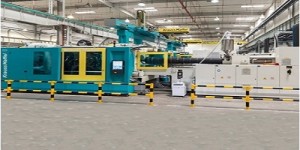 The MX large tonnage series is being manufactured by Krauss Maffei at their Haiyan, China facility since the beginning of 2014; the local presence allows the company to respond quickly to the needs of BSH.
Krauss Maffei's solution comprises of MX 850-8100 injection moulding machines with integrated LRX linear robots. Once the metal bushings required for the tubs have been checked dimensionally, the robot places the bushings into the mould for overmoulding while simultaneously removing the finished parts.
BSH has been using the modular robotic units from Krauss Maffei since 2008 to automate the production of injection moulded parts at their plants. BSH Product Manager Tong Zhifeng observes that the MX Series and integrated automation meet the high standards applicable within their washing machine tub manufacturing process.