Two companies have been in technical alliance since 1982 for plastic extrusion machinery
Kabra Extrusiontechnik Ltd, a part of Kolsite Group, has extended its technical collaboration pact with Battenfeld-Cincinnati GmbH, a leading global manufacturer of plastic extrusion machinery , till March 2026.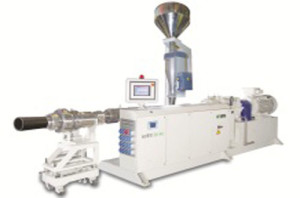 Battenfeld-Cincinnati Germany GmbH, American Maplan Corporation (AMC) and Battenfeld-Cincinnati Austria are part of Battenfeld-Cincinnati group.
Since 1982, Kabra has been in technical tie-up with Battenfeld-Cincinnati (then known as Battenfeld Extrusionstechnik). Last such collaboration agreement, signed in April 2006 and valid till March 2016, was amended in November 2011 to cover the entire range of machinery manufactured and developed by Battenfeld-Cincinnati Austria.
Kabra Extrusiontechnik, which has manufacturing and R&D facilities located in Daman, offers wide range of plastic extrusion solutions for pipes, drip tubes, monolayer-multilayer blown films, pelletising, mixers, and profiles.
Website:                                           www.business-standard.com