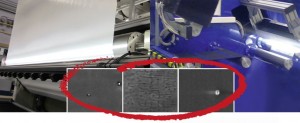 ISRA Vision has developed a special optical concept and a high level classifier, Quickteach for defects detection of separator films used in lithium ion batteries.
While at the dawn of the development, the ability to detect holes was the primary goal, the focus has now shifted to finding and classifying additional defect types, explains ISRA. To ensure the quality of films, not only does the technology have to recognize holes, but now it also has to discover defects such as thin applications, impurities, scratches, uncoated areas of the material, streak defects, folds, and more.
ISRA says its technologies are able to obtain a wide range of information very early. As soon as an image of a material defect is captured, it will be automatically classified. The concept functions independent of the web speed and can even be used, for example, on fast running cutting/finishing equipment.
The method can be combined with a variety of software tools to improve production such a cutting optimization module or a rewind manager. The latter allows the user to define certain defects that need to be removed from the inspected reel material.
Another special software package, the Quality Review, guarantees that flawless daughter rolls are delivered, ISRA adds. The tool can even be used by the manufacturer as an aid when dealing with customer returns.
Separator film is one of the most important components of any battery. According to ISRA, even the tiniest of holes in the 0.05mm diameter range must be detected during production and in the subsequent cutting steps, even at web speeds of several hundred meters a minute.
ISRA Vision has been supplying systems for quality assurance in the field of general battery production for more than 20 years.
SOURCE : http://www.adsalecprj.com/Publicity/MarketNews/lang-eng/article-125783/Article.aspx