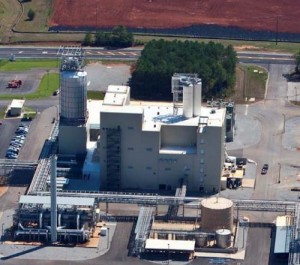 PET supplier Indorama, based in Thailand, has expanded its footprint with the opening of its new 75,000 tonne per annum PET solid state polymerization (SSP) facility in Port Harcourt, Nigeria.
This facility is the first PET plant in West Africa and it makes Indorama the world's only producer of PET on four continents – Asia, North America, Europe and Africa, according to the company.
"We want to serve our customers regionally but on a global basis, thus saving them time and money," Richard Jones, Indorama's spokesman, told PlasticsToday. "We can now act as a one-stop shop for these global customers because we have the presence and the footprint to service them everywhere."
The facility produces bottle grade PET chips through solid state polymerization, the second stage of the PET production process after the initial chips formed by a polycondensation process, which can be sourced from the company's facilities in Asia or Europe and shipped to Nigeria for final processing. Port Harcourt is a port town in Southern Nigeria that is the center of the country's large oil and petrochemicals industry.
At present, there are no other producers of PET in West Africa. In fact, there are only two known PET producers in Africa, Indorama Ventures is now one and the other one is a company in South Africa, Jones said.
Prior to Indorama's plant, all PET was imported into Nigeria, a process the company called "less effective" than manufacturing locally where deliveries have shorter lead times and allows for lower inventory for customers.
Demand for PET in Africa is estimated to be approximately 940,000 tonnes per annum, excluding the Middle East. In Nigeria alone, the demand is approximately 96,000 tonnes per annum.
Jones said the company's major customers in the soft drinks and bottled water industry have seen the Nigerian market grow due to a healthy economy. From 2005 until 2012, Nigeria's GDP growth rate averaged about 6.84%.
"Our philosophy is to serve our customers wherever they are growing, especially in emerging markets, and we decided to take the first move to enter this potentially high-growth market," Jones said. "Nigeria is just one example of how we seek to follow our global branded customers into emerging markets to maintain the closeness of our relationship and help them to grow by serving them where they see their own future growth."
The new plant will employ about 50 local people. Indirectly, there will be hundreds more receiving the benefit from this plant, such as logistics operators, packaging companies, converters and more, Jones said.
"Nigeria is a country that is doing well and is expected to do better in the future," he said. "Indorama Ventures wants to be there at the start of its growth."
SOURCE : http://www.plasticstoday.com/articles/Indorama-opens-first-PET-plant-in-West-Africa-08172012011