170 attendees participated in the Society of Plastics Engineers (SPE) ANTEC Dubai 2014 technical conference, which was held from January 21-22 and the first SPE ANTEC to take place in the region.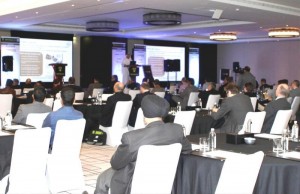 "Holding this inaugural conference in Dubai underscores not only the importance of the Gulf States region for our industry but also SPE's commitment to bring qualified knowledge and networking opportunities to the plastics community around the globe," states Dr. Raed Al-Zu'bi, Chairman of the Conference and President of SPE's Middle East Section.
Co-organized by SPE's Middle East Section and supported by the Gulf Petrochemicals and Chemicals Association (GPCA), ANTEC Dubai included more than 60 original peer-reviewed technical presentations as well as workshops on injection molding and thermoforming.
Keynote speakers delivering plenary addresses included Dr. Hoshiar Molod of Tasnee Petrochemicals; Dr. Abdulwahab Al-Sadoun, Secretary General of the GPCA; Geert Haentjens, Director at Mattex Dubai, LLC; and William R. (Bill) Carteaux, President and CEO of US-based SPI: The Plastics Industry Trade Association.
SPE will continue to expand its conference brand internationally, according to SPE CEO Willem (Wim) De Vos. "In December we will hold our second ANTEC Mumbai in India, extending it to three days after our successful 2012 event there and anticipating more than 500 attendees. And there are plans to take the ANTEC conference to Latin America and China in subsequent years."
The next ANTEC conference in the US will take place from April 28-30 in Las Vegas, the US.