Players in India report that buyers are returning to the market to secure import PVC cargoes from sellers exempted from the new anti-dumping duty schedule or assessed only modest additional taxes, as per ChemOrbis. This has pushed up import PVC prices to the country and encouraged sellers in other Asian markets to take a firmer stance on their prices.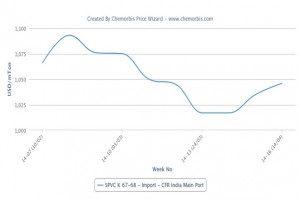 According to data from ChemOrbis Price Index, import prices on a CFR India basis have moved back to match their mid-March prices after sinking to their lowest levels since November 2013 at the end of March.
A trader based in Mumbai said that their Taiwanese supplier originally allocated 2,000 tons for India and that they had sold out this allocation within an hour. "Our supplier gave us a second allocation of 500 tons after implementing a $20/ton increase and we have sold out this additional amount as well," the trader stated. A converter reported that they purchased 800 tons of Taiwanese PVC at the start of the week. "Our supplier indicated that they were considering raising their prices by $20/ton later in the week and we also heard that South Korean suppliers had sold around 15,000 tons to India," the buyer commented.
Another trader based in Mumbai stated, "We purchased some Taiwanese PVC at the start of the week before our supplier's most recent increase and we also managed to secure some Iranian PVC at an attractive price. There has been an up-tick in purchasing activity as many buyers had been delaying their purchases while waiting for the government to announce its new schedule of anti-dumping duties. We believe that much of the recent increase in demand will prove temporary and that market activity will subside once buyers have replenished their inventories."
According to ChemOrbis, a source at a Japanese producer said, "We may try to divert some of our materials to India if we are not satisfied with our sales to China. Freight costs from Japan to India are a bit high, but the anti-dumping duties on our materials have fallen from $130/ton to $15/ton so we are able to consider selling to India once again." A Philippine producer also said that they may consider offering export cargoes to India. "We are standing firm on our offers to the domestic market as we cannot afford to give any ground on our prices as spot prices for ethylene and VCM remain strong. We may divert some of our allocations to India, where our materials will not be subject to anti-dumping duties, if demand from the local market proves unsupportive," a producer source stated.